Blockolicious (Facebook) Game Review
Both of my favourite Mac games are being patched today, so with Diablo III AND StarCraft II out of commission for a while (take a look at the SCII patch, it's weighing in at 1.1 gig), I've got some time to check out something I've not done in a while, a Facebook game! In this case, it's Konami's Blockolicious, which essentially is a port of the same game by Chillingo for mobile devices.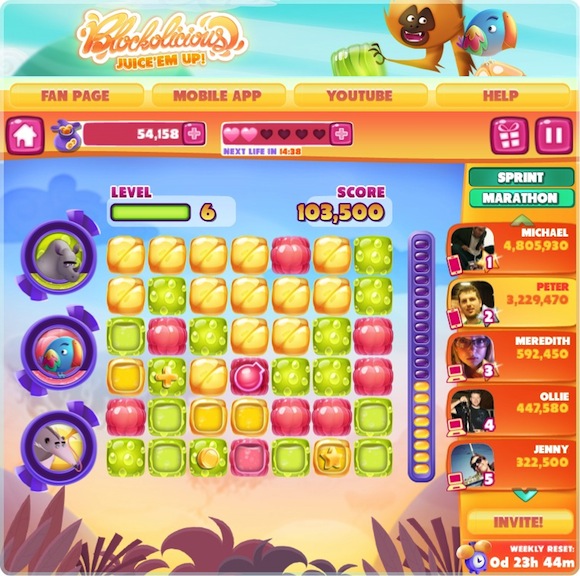 Now, you might groan, not another match-3/Bejeweled clone, but look at it this way, what do all (well almost) match-3 games have in common? They all have the ability to keep players transfixed. Blockolicious adds in several strategy-based elements that will make players even more hooked. Divided into two modes of gameplay, Sprint and Marathon, the basis still the same: Match like-coloured blocks in groups of 3 or more to form up Juicy Blocks. Match like-coloured Juicy Blocks together to create explosive Juicy Bombs which can be used to take out all like-coloured blocks on the block and power up Power Aids.
Power Aids are power-ups that will help players to destroy even more blocks or even provide multipliers to their scores. The difference between the two modes are in Sprint, the juicy blocks drain out and in Marathon, you'll need to keep your number of moves high up or else it's game over. Putting up that many strategic elements in a simple game of match-3 would be quite daunting to read on paper (or from the e-mail), but the proof is definitely in the playing.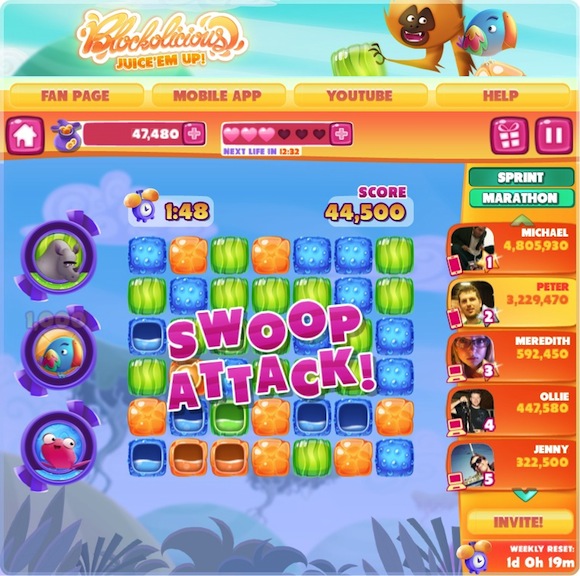 Having said that, my favourite mode would be the Marathon, with the Sprint being a little too frantic for me. Doing well in the game rewards players with coins that can be used to unlock more Power Aids (or even quickly boost them in-game) and the players scores are reflected on cross platform leaderboards.
Nine Over Ten 9/10 rates Blockolicious at a 4.5 out of 5! The game is available on Facebook for free, so do check it out over here: https://apps.facebook.com/blockolicious/.
Powered by

Sidelines
Previous Post Chrono&Cash (iOS) Now Available At A Discounted Price of USD 0.99
Next Post Once More Into the Fray – Counter Strike: Global Offensive Review