Epic Meal Time (iOS) Game Review: This Will Make You Hungry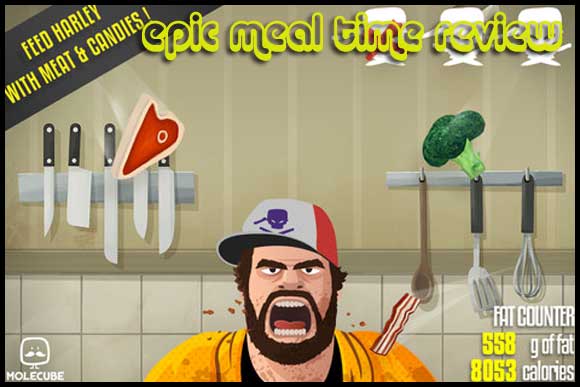 Did my on-screen avatar just chewed through a TurBacon? If you're asking me what is a TurBacon, you gotta watch Epic Meal Time on YouTube. It on the forefront of a new Internet trend dubbed as food porn (look it up). The folks behind the web series have teamed up with one of our favourite indie devs Molecube to come up with an Epic Meal Time game for iOS devices.
As a Malaysian who is no stranger to food (having being introduced to the buffet line early in life, and the abundance of awesome food in this cultural melting pot which I call home), this game is right up my alley. A cross between Fruit Ninja and a Paleo diet manual, the goal of the game is to fling meat into the mouth of the Sauce Boss (a.k.a Harley Morenstein, the creator of the series) while trying to get vegetables out of the screen. Om nom nom nom…
There's a Fat Counter that keeps track of the amount of fat and calories consumed, and generally the more you eat before your three lives are up, the better you do. The game is connected to online leaderboards thanks to Game Center and another incentive of doing well is getting rewarded with in-game currency. The latter can be used to unlock different food items and swag, a boon to those chasing high scores.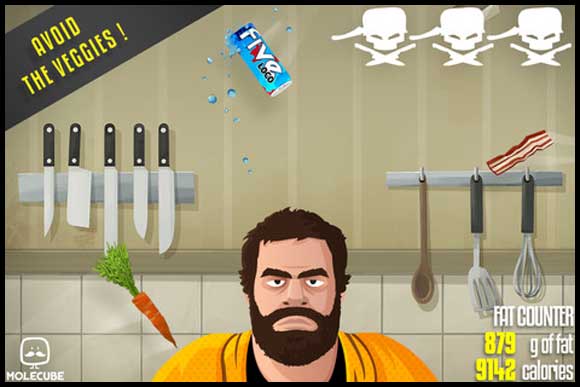 Nine Over Ten 9/10 rates Epic Meal Time at a 4.5 out of 5. This game WILL make you hungry. HIGHLY RECOMMENDED. The game is available on the iTunes App Store at a price of USD 1.99: itunes.apple.com/us/app/epic-meal-time/id528727917?ls=1&mt=8
A review code was provided to Nineoverten.com for the purpose of this review.
P/S If you are still wondering what's a turbacon, according to this website, it's "A 20 lb. pig, stuffed with an 8 lb turkey, a 6 lb duck, a 4 lb chicken, a cornish hen, a quail, a bacon and croissant stuffing, held together with bacon and sausage glue, and a glaze of 6 lbs. of butter and Dr. Pepper. 79,046 calories, 6892 grams of fat"
Powered by

Sidelines
Previous Post We Watch The Olympics: Badminton and Athletics
Next Post Hurry! Grab These Fighting Fantasy Games (iOS) Before the 14th of August!