Zombie HQ (iOS) Game Review: Rebellion Shows Everyone Else How To Kill Zombies
I've got nothing but respect for some of the bigger studios who have had success in the PC/console platforms only to take the plunge and dedicate their time and resources to create mobile apps. More often than not, players will be in for a treat. One such example would be Rebellion's latest iOS title, Zombie HQ. Developed together with Fuse Powered Inc, Zombie HQ is a 3D 3rd person perspective zombie killing action title.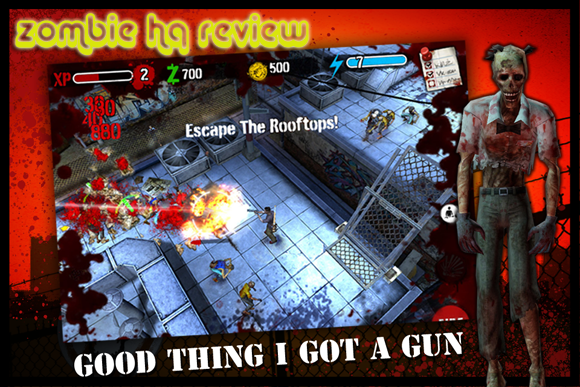 Having being made by the guys that brought you Aliens vs. Predator, Zombie HQ features great looking 3D graphics and I must say, very impressive camera work. The game takes place in a city overrun by zombies and the player takes on the role of one of the few surviving humans, with a pretty sweet rooftop pad (kinda like the first inFAMOUS game for the PS3) serving as the titular Zombie HQ.
From the HQ, players get to choose which missions to play from a map, purchase weapons and upgrades, spruce up the roof top pad, engage in some slot machine hijinks and even arrange for pickup for the few human survivors that they can rescue. The game is pretty well realised and while there's plenty to do, the missions are the meat and potatoes of the game.
Missions occur in various parts of the city and are varied in objectives. Some will have you scavenging for resources, securing an area, rescuing survivors and picking up fights with extra tough zombies. The zombies themselves distinguish themselves into different groups, some are shamblers, some very quick on their feet and some even explode upon contact.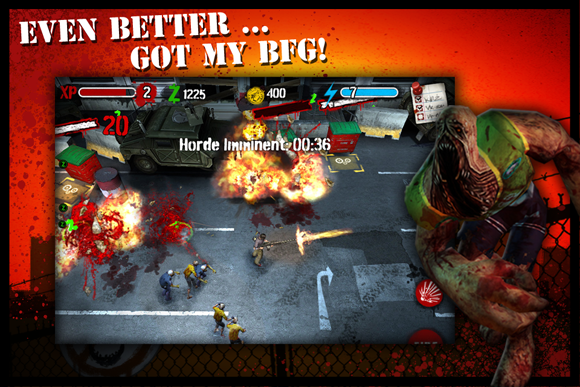 Success in missions nets you in-game moolah which can be used to upgrade your weapons, purchase new ones along with other forms of equipment. Being a free-to-play title, players can purchase additional moolah and gold bars (which are used to purchase even cooler upgrades) via in-app purchases. Experience points are another form of reward and new levels are unlocked as you level up.
I find the entire experience playing the game to be an exciting and frenetic one and if you were to repeat a level, the zombies become significantly tougher, but with a tricked-out hand gun, you should be able to survive. Nine Over Ten 9/10 rates Zombie HQ at a 4.5 out of 5. HIGHLY RECOMMENDED.
The game is available for free on the iTunes App Store, check it out over here: https://itunes.apple.com/us/app/zombie-hq/id524110605?mt=8
Powered by

Sidelines
Previous Post Watch The Olympics Streaming Live with Replays on YouTube