Watch The Olympics Streaming Live with Replays on YouTube
Having being raised an Anglophile (thanks to my parents' experience in the UK), the team that I'm routing for would be Team Great Britain. I watched a repeat the opening ceremony last night and came away suitably impressed. It was a tall order to top what the Chinese did back in 2008 but the London 2012 Olympics production tapped into GB's history, namely the idyllic village lifestyle, followed by the Industrial Revolution, a tribute to the National Health Service, and Britain's contribution to the world of technology and pop culture.
It was frenetic, it was chaotic, and I loved it. It was pretty sad though to see the event book-ended by a spent and frail looking Muhammad Ali. The one who floated like a butterfly and stung like a bee, was seen at the end of the Olympic flag raising ceremony.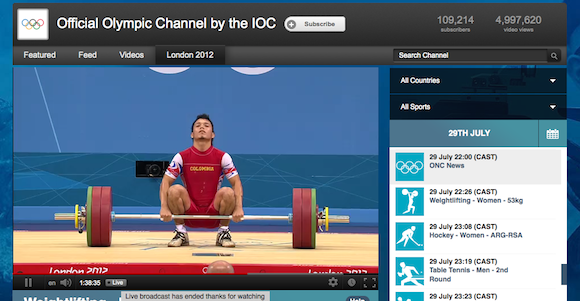 I don't have satellite TV but I do have high speed broadband, so for this summer's Olympics, I've taken to YouTube to watch live streaming from the events. The IOC maintains a channel on the site and it's really awesome, you get to watch full replays as well. Do check it out: https://www.youtube.com/user/olympic.
For news bits, I'm actually using the BBC news website (https://www.bbc.co.uk/news/). It's a bit of a mess at the moment (think the Brits are a bit obsessed with how their team is doing, a little more than me, and home coverage, especially the BBC, is skewed in that way :P).
Powered by

Sidelines
Previous Post Beach Boss (iOS) Game Review: Rule The Beach As A Beach Boy
Next Post Zombie HQ (iOS) Game Review: Rebellion Shows Everyone Else How To Kill Zombies