Where's My Perry (iOS) Game Review: Have a Blast Playing With Water
Disney's main character Swampy in the game Where's My Water was the studio's first original IP in the mobile gaming space, and I had a feeling it would just be a matter of time before they took the excellent gameplay from that game and re-purpose it with one of their existing IPs. True enough, Disney recently came up  Where's My Perry, which combines Where's My Water with characters from their #1 animated series Phineas and Ferb, particularly Perry, the crime fighting platypus a.k.a Agent P.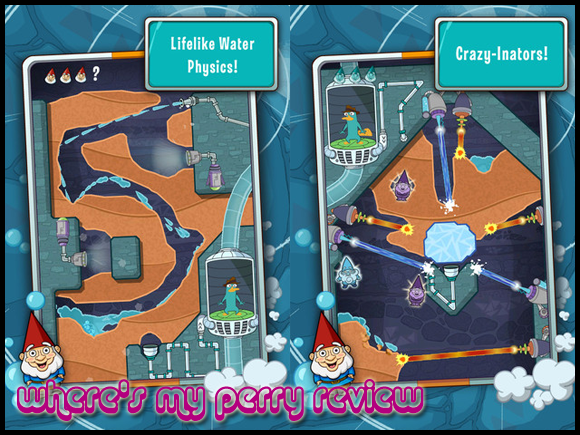 The premise of the game is pretty simple, instead of filling up a bathtub with water, players will have to guide the water to power Perry's transportation tube in an effort to get him to OWCA headquarters. Here's the thing, one would assume that the game plays exactly like Where's My Water but in actual fact, it has enough new gameplay elements to differentiate itself from its predecessor. Even my wife who is a frequent WMW player had this to say: "How do I play this game?"
What makes this game a different beast (in a good way)? Well, the inclusion of Dr. Doofenshmirtz's lasers, which can turn water into steam, ice and liquid, increases the emphasis on coordination and quick reflexes. Completists would want to know that there are collectibles and gnomes to be collected in the levels. On a personal side, Perry is a way more chatty fella than Swampy, but looks equally as cranky.
Where's My Perry comes with 80 levels, with more coming in the form of free updates. It's a natural progression for those who have played Where's My Water and for newbies, you are in for a treat with this fun water physics puzzle game. Nine Over Ten 9/10 gives Where's My Perry a 4.5 out of 5. HIGHLY RECOMMENDED. The game is available on the iTunes App Store: https://itunes.apple.com/app/id528805631?mt=8
Powered by

Sidelines
Previous Post Stoned 3D Gets New Easy Mode And Price Slashed to Free!
Next Post Neo Geo Classic Shmup Blazing Star Released for iOS and Android