Warlords Classic HD (iPad) Game Review: Awesome Retro Turn-Based Strategy Gameplay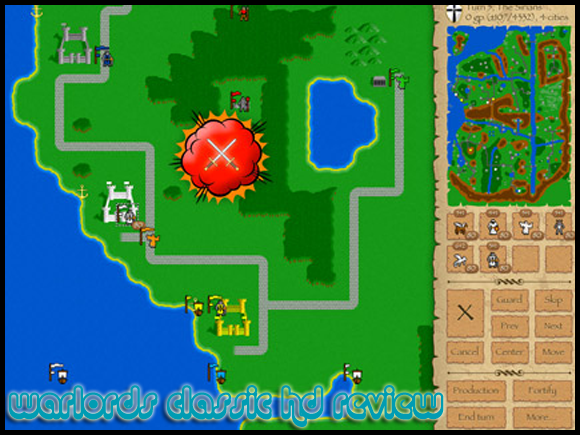 There's a new game that I'm addicted to on the iPad but you'll be surprised that it's actually a port of a really really old game. Warlords Classic HD is a 21st century port by ALSEDI Group of the original Warlords turn-based strategy game created by Steven Fawkner and published by SSG back in 1989. Just to give you an idea of how old this title is, I actually remember playing Warlords IV in 2003!
OK, back to the game. You get a pretty faithful port in Warlords Classic HD, and being a turn-based game, you can take on 7 other opponents which can be a mix of human or A.I. For the latter you can actually set the difficulty level for each of them but trust me, even at the lowest setting, it's almost akin to playing against a bunch of chess masters.
The game features the pixelated retro graphics of the old game, as well as the music so fans of the old game are in for a treat here. How you go about playing the game would be to conquer cities, amass large armies by producing units in those cities and then sending them to destroy the enemy. Your units can be stacked up to eight on a single tile and occasionally powerful heroes may make themselves available for hire. My approach to combat would be to deploy an a full stack (8 units) against an enemy stack….and hope for the best.
There are other things to do besides combat, such as exploring the massive map and there are some ruins scattered about to check out. The only thing that I find to be a drawback in the game (especially when you've got limited time) is that you'll need to wait out for your turn as the game will show the AI taking their turns…and with plenty of units on the map, this can be quite a wait.
Don't forget to check out the stats and the production vectoring available in-game. It's pretty damn cool to see where your units head off to, and this level of reporting is unprecedented in an iOS game. If you are looking for some really strong turn-based strategy gameplay, Warlords Classic HD is worth checking out. Nine Over Ten 9/10 rates it at a 4.5 out of 5. The game is available now on the iTunes App Store for a price of USD 2.99: https://itunes.apple.com/app/id532024361
A review code was provided to Nineoverten.com for the purpose of this review.
Powered by

Sidelines
Previous Post Impressive: Mom Teaches Herself to Code & Builds Her Own Games
Next Post Renegade Kid Releases Planet Crashers for Nintendo 3DS