Pinball Maniacs (iOS) Game Review: Awesome Pinball Action For Free!
I put up a question earlier this evening on Twitter asking whether the iPhone's form factor lends itself well to pinball games. I got to admit, I was actually amused by the whole idea…granted I'm actually used to playing pinball games both on the desktop and iPad. The game that I played on the iPhone was Massive Finger's Pinball Maniacs.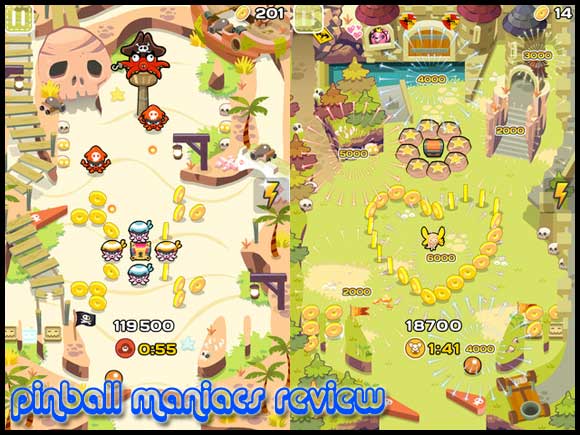 First things first, I wasn't really impressed at the controls. My thumbs were actually obscuring my view of the paddles. However, I was impressed with both the gameplay and the graphics. The game is actually presented in a colourful and vibrant way, with a missions-based slant to each of the pinball boards. On occasion, there are creatures walking around the board, hitting them and other things will net you points and the game encourages you to collect gold coins that appear on each board.
The gold coins and red rubies play a part in one of the more impressive (read: commendable) implementations of IAP that I've seen in a game. You get one try during each attempt on each board, and should the ball fall through the gutter, you are given the chance to continue by paying in coins. Do remember that coins are earned while playing the game, but it gets more expensive to continue when you end the game with large amounts of points. There's one good reason to continuing on though: Game Center.
Red rubies on the other hand are handed out sparingly while players are playing the game and are key to opening up new boards in the game. Should you feel the need for a leg up, you can purchase either of these in-game currencies via IAP.
Pinball Maniacs gets a 4.5 out of 5 for being a super cool pinball game. HIGHLY RECOMMENDED. You might want to play it on the iPad though, for a better gameplay experience. The game is available for free on the iTunes App Store, check it out over here: https://itunes.apple.com/ca/app/pinball-maniacs-cartoon-pinball/id489253296?mt=8
Powered by

Sidelines
Previous Post iPhoneAppCafe Launches App Idol: Could You Be The Next App Star?
Next Post 2K Play Launches COMEDY CENTRAL's Indecision Game for iOS and Android