Indie Game Developer Interview: James Dunay (Swangle 2)
Have you managed to check out the awesome word game Swangle 2 on the iPhone? Read our review to find our more about this Bejeweled inspired word game and in the mean time, we've gotten the guy behind the game, James Dunay to answer some questions on our Indie Game Developer Interview today. Interested in knowing what makes this indie dev tick? Read on: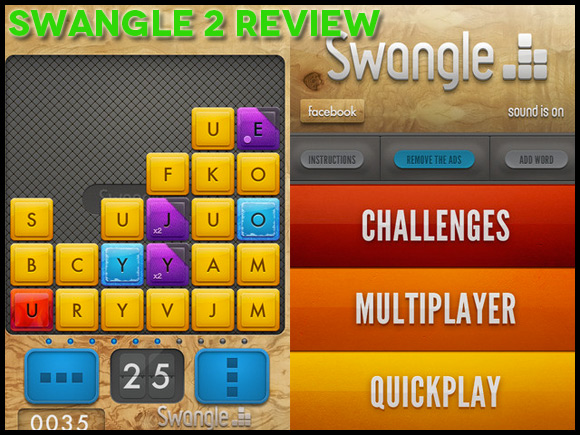 Nine Over Ten (9/10): Tell us more about yourself and how you started developing mobile games?
James Dunay (JD): I graduated from college with a degree in graphic design, which you can imagine is unbelievably helpful when creating games, but my programming skills were almost nonexistent. Before I started in with iOS development I worked at a software company as a digital artist. It was there that I learned from some very smart guys how to program. I can't say that I learned a language completely but I did learn concepts and approach styles to coding which in my opinion has been much more helpful than just out right leaning to code.
I started developing mobile games about 9 months ago with Swangle (original version) which was released on the iPad. Before that I had about 3 months of time logged with 2 other non-game apps. It's tricky to say exactly how I decided to make games, but it just seemed to be the natural choice once I got my feet wet with Objective-C (iOS programming language). I like playing games and I have always been blown away how they are created so it seemed to be this big mystery that I wanted to dive into.
9/10: What was the idea behind Swangle 2?
JD: Swangle 2 was created to accomplish some things that I was not able to get into the original version but also to rectify some errors and problems that were present in the first title. The idea behind the Swangle series, which was thought up by my lovely girlfriend, is to provide a game where players would have to frantically create words to keep their board from filling up. I think Tetris probably had the greatest influence on Swangle's gameplay but there certainly are other factors.
9/10: How has the response been to Swangle 2 on the iTunes App Store? Could you describe the process of marketing your games?
JD: The (iTunes) App Store is a barren place for thirsty developers. The downloads have not been exactly where I would want them, but I can look at the number of ads loaded in each day and tell that the people who have downloaded the game are playing the pants out of it. Marketing a game by yourself on the App Store is no easy task.
I am certainly no marketing expert, but I have learned how useful Facebook and Twitter can be when trying to get your game out. I have been also reading a great deal about using a paid advertising service to generate some more downloads but I'm just not set on anything yet. Also doing it yourself becomes very fun when you manage to get a review or a mention on Twitter. I think it makes it a little sweeter.
9/10: Could you share with us a little on what you'll be working on next?
JD: My next title is a bit of a mystery at the moment, I have a basic idea of what it's going to be but it's still to early to be put into words. However, I suppose I could say this. Within the iOS market I would say there are some games that are really striving to achieve top of the line graphics. Titles like Infinity Blade and NOVA 3 come to mind, and I have to wonder, why don't any Indie games look this good? With my next game I intend to find out just how good a single developer can make a game look.
9/10: Any plans for releasing Swangle 2 on other platforms?
JD: I currently don't have any plans to release Swangle 2 on any other devices. I think I need to take a break from it. If I can see that the demand is present I could be swayed into putting it onto Android or maybe Windows Mobile, but at the moment I think I'm just focusing on marketing the iPhone and iPad versions of the title.
9/10: Any words for aspiring game developers out there?
JD: If I were to give one piece of advice to aspiring game developers it would be this. There will be a time when you think it's just not going to work out. Maybe your game doesn't look like its going to come together or it's just too big of an idea for one person, or maybe your just starting and you can't figure heads from tails with the code. It will seem as if it's just not meant to be.
This moment will break your spirit. But, it is a test and you have to push through it. That is the only way you will be able to get through your days as a developer. You have to learn to push the negativity to the side and focus on your goal.
Powered by

Sidelines
Previous Post Summer Time And It's Time For Big Win Baseball (iOS & Android)
Next Post Fly The Zombie Airlines and Infect the United States in Zombie Ace (iPhone) Game Review