Fly The Zombie Airlines and Infect the United States in Zombie Ace (iPhone) Game Review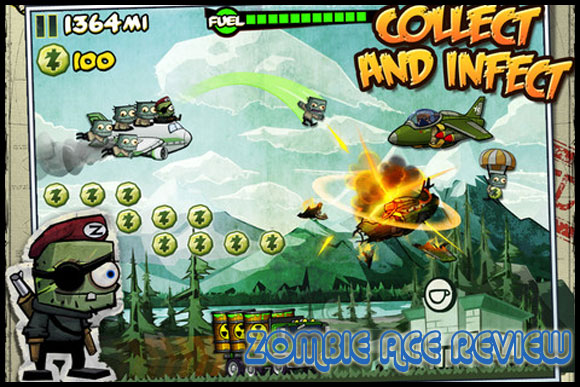 Breaking news. San Francisco has been infected by plane loads of zombies shortly after the city of Portland fell to the same scourge. It has been reported that these planes are piloted by ace zombie pilots and cities in the United State are considered a prime food source (read: brains) for them. All air travel has been cancelled as the armed forces has taken to the skies to shoot down these flying undead harbingers of doom.
LOL. I can imagine something like that showing up in the newspaper if events in Hothead Games' Zombie Ace happened in real life. This 2D side scrolling game is pretty fun and is a new take on the endless running genre as players guide an airplane filled with zombies across hundreds and even thousands of miles to land on cities and eventually infect those cities.
The controls are very simple. Players just tap and hold in order for the plane to gain altitude. Releasing the tap and hold will result in the plane heading downwards. Each level is littered with obstacles ranging from errant clouds to mountains, and enemies, while at the same time, there are powerups and coins to be collected.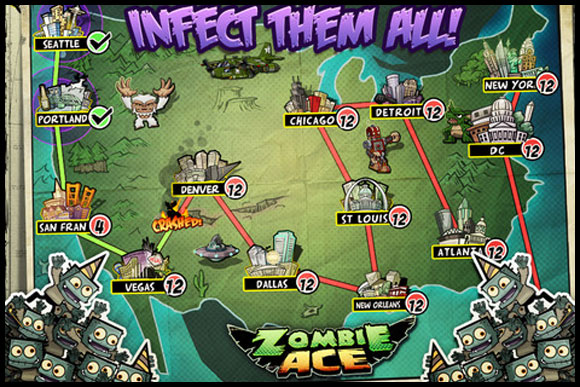 Do well and you would be rewarded with virtual in-game currency and brains, both of which can be used to further upgrade your plane and unlock stuff like different zombie ace pilots and vehicles. If there's one lesson that I learned from the game, flying the undead can be a really fun, and addictive experience. If you can excuse me, I've got Las Vegas to infect next.
Nine Over Ten 9/10 rates Zombie Ace at a 4.5 out of 5. The game is available on the iTunes App Store for 99 cents. Check it out over here: https://itunes.apple.com/us/app/zombie-ace/id467518392?mt=8.
A review code was provided to Nineoverten.com for the purpose of this review.
Powered by

Sidelines
Previous Post Indie Game Developer Interview: James Dunay (Swangle 2)
Next Post Atari Celebrates 40 Years of Fun With Huge Infographic, View It Here!