Standard Chartered KL Marathon 2012 Full Marathon (42.195 KM) Race Report
This year's Standard Chartered KL Marathon 2012 marked the second time I was participating in a marathon, with the first one being last year's edition of the SCKLM. This year's goal was to finish at a faster time than last year's; back then, I crossed the finish line at just under 6 hours. And I'm happy to say that I accomplished just that.
I arrived at Dataran Merdeka at about 4:05 a.m., just in time to stash my bag at the race expo. Didn't really have time to mingle this time around but I managed to find a friend of mine who was on duty as a 4:30 pacer. We flagged off sharp at 4:30 a.m. and one thing different from last year was that our timing ship were embedded into the bid, this allowed runners to just run through the starting sensors without slowing down.
This year's course was the same as last year's, and the start brought us quickly through KL Sentral, Brickfields and then Seputeh. I realised that I was actually running at above my own half marathon pace when I finished the first 10K in an hour four minutes. The course brought us out onto the KL-Seremban highway, before turning into Jalan Istana. The weather was pretty cool at this point as we encountered a very light drizzle. I noticed that it had rained earlier as the roads were quite wet.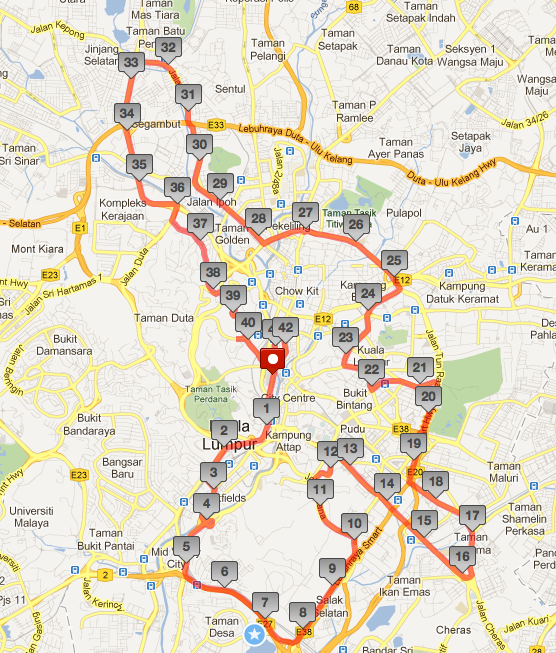 I saw the Singapore Blade Runner at this point and wished him good morning. I had my picture taken with him last year at Sabah's TMBT Ultra Trail Marathon. That guy is and always be 101% awesome in my book.
From here it was a slightly hilly route into Dewan Bahasa dan Pustaka and into Loke Yew, past KL's notorious red light district. LOL. From Loke Yew, it was a straight route into the Cheras roundabout, which we took the 9 o-clock turn back into KL passing Jusco Maluri before going pass the red light district near Jalan Pasar.
I actually performed better at this stage compared to last year, since I didn't stop running except at the water stations (which were numerous by the way, kudos to the organizers). This was at Kilometer 19 of the race and I felt really good. After that it was the Bulatan Kampung Pandan, followed by a short stint on the Tun Razak main road turning into Jalan Imbi at the Prince Hospital junction.
From here, it was an draggy uphill section into Bukit Bintang which honestly, I felt I ran through it rather quickly. From there, we passed the cooling station (basically a mist machine) at Raja Chulan before turning right pass the KL Tower. I actually bonked at this location last year, but no such problems this time around. My timing at the 21 KM point was actually a new personal best, I dipped below 2:20.
Running past Kilometer 23, I was joined by one dude with a very cool Rasta hair-do near the Beach Club. I think he just finished his shift at one of the clubs around the area, and we chatted for a good 150 to 200 meters. That's the really cool part about doing marathons, you meet really cool people. I can't believe I just used the same phrase twice in one sentence.
Anyways, at this point the marathon group ran straight into Yap Kwan Seng while the half marathon fellas turned left. The route brought us back into Tun Razak and last year, this route was notorious with the heat (although half of this part was under an elevated highway) and traffic. Thankfully the race started earlier this year, sparing us the brunt of the smoke and crazy drivers. I was overtaken by an Punjabi uncle at this point who told me "Boy, run faster, the sun is coming up, you want to run in the sun?!"
The stretch turning into Jalan Ipoh was thankfully newly tarred compared to last year. The entire stretch spanned nearly 5 kilometers, passing by my in-laws. LOL. I bonked at the end just before the 33 KM mark but at the same time I actually realised that with a positive split, I can manage a sub-5…if I persevered.
Persevered I did, through the Jalan Kuching stretch where we were then filtered into Bukit Tunku. This is our very own version of the Heartbreak Hills. Going through this final stretch after more than 36 kilometers can constitute as pure torture and despair to some folks. I managed to get out of there with a combination of running, walking and trying to attack the hill slopes. The downhills were merciless as well. It was here I took my third Power Gel.
In any case, I thought it was a relief coming out of Bukit Tunku, until I bumped into the bulk of the non competitive category of 10 KM runners at the JKR u-turn. It was the same problem as last year as I had to weave in and out of the crowd. This led to the final stretch and one more u-turn into Jalan Tuanku Abdul Rahman.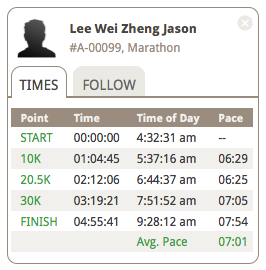 I decided to focus on the 5:00 pacer runner who was running ahead and I had 10 minutes to finish the final kilometer in order to get a sub-5 timing. I made it to the finish line in 4 hours 55 minutes, one hour faster than last year (I overtook the Punjabi uncle before that). It was a really good race, one which was well organized and the level of participation was very high. I don't know about you, but I'm coming back next year aiming for a better time.
Aftermath: I actually hung out after the race, watching the marathon runners arrive back to the finish line. When I decided to drive from the venue, I took one spin through Bukit Tunku and found 30 runners going through this stretch at the 7 hour mark. I tip my hat to them for showing true grit.
Powered by

Sidelines
Previous Post Gianluca Vialli's Lords of Football Coming Soon This Summer
Next Post Atari Announces Finalists For Pong Indie Developer Challenge