Gianluca Vialli's Lords of Football Coming Soon This Summer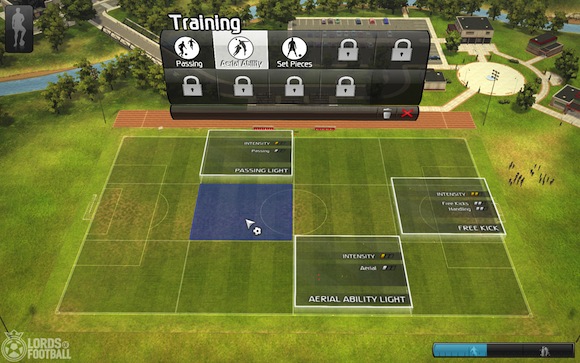 Fans of Italian football would surely recognise this name: Gianluca Vialli. He's one of only 9 players who have won all three UEFA club competitions. He hasn't been far from the footballing limelight since retiring, as he is now a TV football commentator with Sky Italia. And what do you know, he has a brand new footie sim coming out this summer! Check out the following press release for details:
The debate will rage on about England's tactics in the game against Italy last night – but if there's one thing we can all agree on, it's that practising makes perfect.  Forthcoming football lifestyle game Lords of Football allows players to manage all aspect of their team – from coaching them on the field under the glare of the floodlights, to overseeing their behaviour when the lights go down and the vices start emerging.
Italian-based independent developer Geniaware – making the game under the watchful guidance of Gianluca Vialli – has just unveiled three images from the game which showcase the training and character editors. Lords of Football offers unprecedented freedom in the world of football, bringing true lifestyle features to a simulation for the very first time. It's the only game where what happens on the pitch is directly related to what happens off it.
The new training editor – seen for the very first time – hints at the incredibly deep tactical options available within the game. Push your players to the limits and they'll raise their game – but watch out for them looking for ways to relax in the evenings. The never-seen-before character creator shows a glimpse of some of the stats used to form every individual player within Lords of Football. Psychology will prove to be as important as their playing skills as coaches cope with skill and egos – both on and off the pitch.
"Lords of Football really puts the sim into football simulation," says Sean Griffiths, Development Director, Geniaware. "Never before has a game captured everything about the lifestyle of football – from the highs of taking a team to the top of the league, to the lows of the tabloid headlines. The new images we've released today hint at some of the depth to come – we'll be showing more detail over the coming weeks."
Lords of Football is due for release this summer on PC. More information will be unveiled soon, but in the meantime keep an eye on: www.lordsoffootball.com
Powered by

Sidelines
Previous Post Check Out Heroes & Generals: Come Out to Play Trailer
Next Post Standard Chartered KL Marathon 2012 Full Marathon (42.195 KM) Race Report