Face of Mankind (PC) MMORPG MIB Premium Code Giveaway!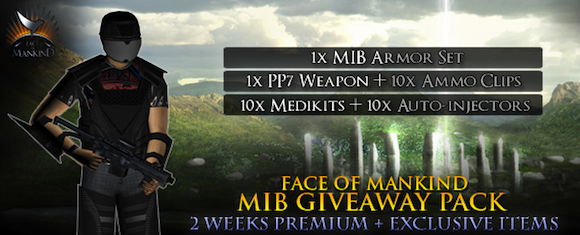 For the uninitiated, Face of Mankind is a MMORPG title that exists in a single persistent universe. Here, you will control a single character in a world with significant science-fiction influences set in the 24th Century and beyond.
The game features an environment that is constantly evolving, thanks to the player-driven nature of most the content in Face of Mankind. With 8 factions to choose from, players can engage and cooperate with others, or get involved in brutal competition with folks from all around the world.
All players are considered citizens of the Dominion, which is the government and state that governs all mankind. Expanding from that, players can band together in their respective factions as well as across factions to become forces to be reckoned with. The objective of the game is simple, to develop your character to the best it can be.
The game is a Free-To-Play title and the good news is we've got plenty of codes to give away for the Face of Mankind MIB Giveaway Pack which includes Armor, Weapon and Item goodies and 2 weeks of Premium play and exclusive items. To get a code, simply leave a comment or gimme a buzz on Twitter (@zorocaster)
The game client is available for download right over here: https://www.faceofmankind.com/
Powered by

Sidelines
Previous Post Defender Chronicles II (iOS) Review: Intense Tower Defense Experience
Next Post Announcing The Indie Fort Bundle 2 – Six Games For the Price of One