Swangle 2 (iPhone) Game Review: Words, Meet Bejeweled
I must really love word games, for this is my second word game review in a row in the past week. Swangle 2 for the iPhone is a little bit like Bejeweled. Those of you who are familiar with the latter would know that gameplay revolves around selecting like-coloured jewels in horizontal or vertical lines.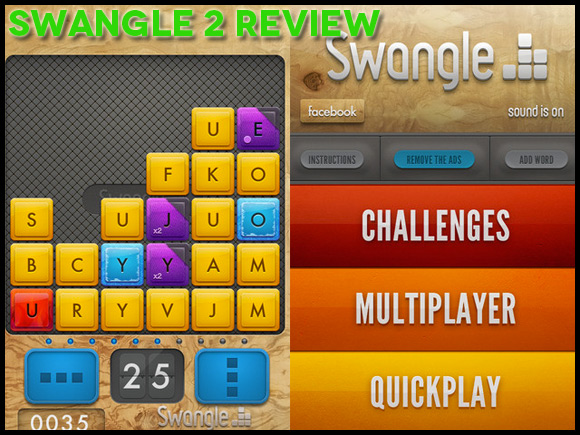 In the case of Swangle 2, you form words instead out of the letters that you see on the game board. Knowing that words can be hard to come by in a sea of random letter tiles, you can swap positions between two tiles. This doesn't make your task easier as depending on the difficulty level you select, a row of new letters will come dropping down on you set times, and you are supposed to survive a certain number of rows.
You'll be swiping words of the board in a frantic manner in no time!
The game's multiplayer mode is a different, and probably even more exciting mode compared to the single player experience. You get to use points earned from making words to drop more tiles on your opponent. Devious right? Just now that the player you are playing against can do the same too.
Swangle 2's polished good looks and three game modes make for good replay value and is certainly worth the USD 1.99 in-app purchase to unlock the game. In the mean time, the game is available for free with only the Quick Play mode unlocked. Nine Over Ten 9/10 rates Swangle 2 at a 4.5 out of 5, check it out NOW at https://itunes.apple.com/us/app/swangle-2/id526031071?mt=8
I did encounter an annoying prompt to buy the game while playing it in free mode, it comes up occasionally but not during gameplay. Maybe I accidentally tapped on the IAP purchase button, but if it does happen to you, do pick it up with the dev.
Powered by

Sidelines
Previous Post Browser-Based Frisbee Rush Turns Your SmartPhone Into A Video Game Controller
Next Post Spanish iOS Developer 1Tapps Celebrate Successful First Year on App Store