Tile Pile (iOS) Game Review: Amazing Word Puzzle Game
You know what genre do I really like when it comes to iOS games? It would be word games and having played Wanderling Games' latest title, Tile Pile, I must say that it is a fine addition to the genre.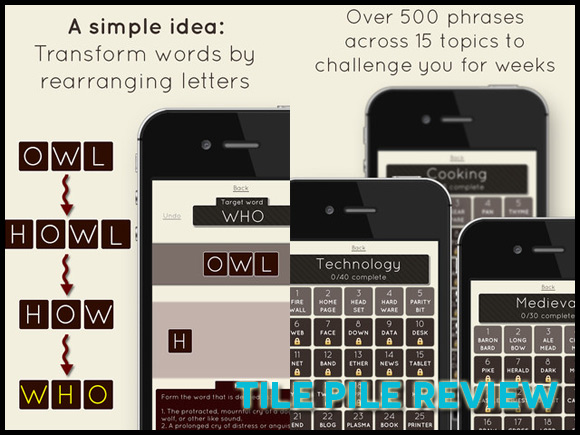 The game is kinda like Scrabble but with an increased puzzle element added to it. Players are faced with an initial word which they'll need to morph into another word before proceeding to the next pair of words. How the player goes about converting the initial word would be to swap the letters with those from a tile pile, move the letter around or discard them. The only caveat is that with every move, a proper word must be formed.
One must imagine that the game can be a tough cookie to crack, but thankfully, the game comes with a limited number of hints. The number of hints can be replenished by using an IAP or by winning. The words themselves are divided into topics, and players can choose as well the difficulty level. Challenging at normal difficulty and with 300 phrases to solve, Tile Pile can give any decent wordsmith a run for his/her 99 cents.
What's even more impressive is that dictionary feature at the bottom of the screen, which describes the word that you just played, or hint at what to play next.
Yup, this pretty amazing word puzzle game comes highly recommended, and Nine Over Ten 9/10 gives it a 4.5 out of 5. The game is available on the iTunes App Store for 99 cents. Check it out over here: https://itunes.apple.com/us/app/tile-pile/id517502080?mt=8
A review code was provided to Nineoverten.com for the purpose of this review.
Powered by

Sidelines
Previous Post Townseed (PC) Seeks Funding
Next Post Popular Drag Racer Franchise's New Sequel Drag Racer World (iOS & Android) Released