Digital Ukulele Arrives for the iPad
This is not the first time Nineoverten.com has put up something on iOS-based musical instruments, but this probably takes the cake in terms of cuteness (simply because it's a digital ukulele of all things). Check out the following press release:
Amidio Inc (www.amidio.com) has released Futulele (https://amidio.com/futulele), the definitive Ukulele synthesizer for the iPad. The application has drawn a lot of attention upon its announcement in Spring 2012, thank to the unique possibility of combining two iOS-based devices (iPad and iPhone) using a special guitar-shaped case in order to make a compact digital wireless guitar.
Since that, Futulele has come a long way from a concept to the real application and has a lot more to offer. It looks amazing (supports Retina displays), sounds awesome, offers fully automatic playback modes, great interface and, as promised, an extension option via the Futulele Remote app.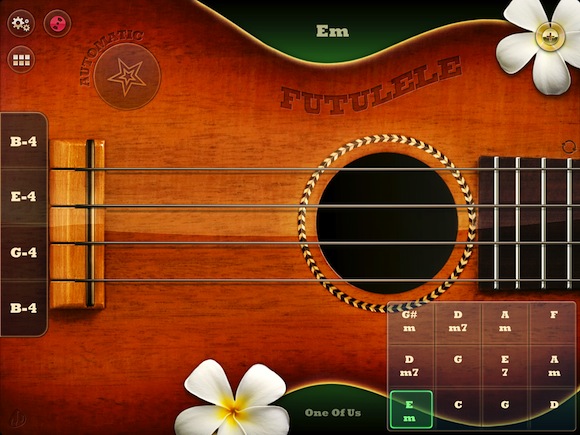 Futulele features state-of-the-art sound engine which makes it the best-sounding digital Ukulele ever created. The physics-based CrystalClear 4.0 sound engine operates with 72 highest-quality Ukulele string samples, combining and tweaking them on the fly to deliver a fantastic Ukulele experience. Futulele detects your strumming speed and alters the sound accordingly, just like on a real guitar. The "machine gun effect" (repetitive samples) has been reduced to a near-zero level. 4 customizable FX are available: Grand Stereo Reverb, 3-Band EQ, Lush Chorus, Tape Delay.
Only one button is required to engage the Automatic strumming, and there are 15 strumming patterns to choose from. Recording to .WAV/.M4A is a blast and takes only one tap as well. The chords are organized into chord sets. Futulele comes with 10 pre-defined chord sets, and user sets can be created easel, with up to 12 chords can be used per chord set. There are 132 possible chords in total, which is more than enough for any song.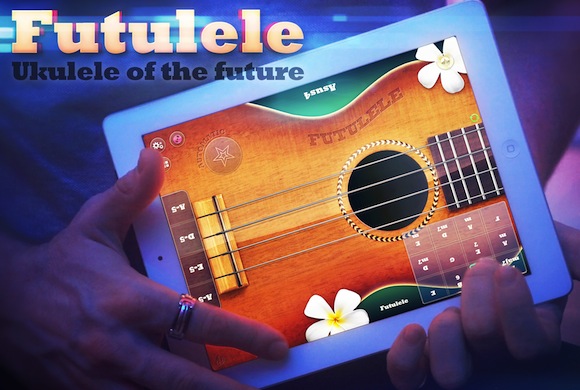 One of the most remarkable features of Futulele is that it can be operated with the iPhone (iPod Touch) and the iPad simultaneously, in a way that has never been introduced before. It is not a secret that many iPad owners also have an iPhone, so Futulele is an excellent and innovative reason to get the best musical juices flowing out of both.
A special guitar-shaped case holds the two devices, making it possible to select the chord on the iPhone and strum along the iPad screen, just as on a regular instrument. Changing a chord requires only one tap, and the strumming technique is easy and convenient. No external wires or hardware accessories are needed, since the devices use Bluetooth or Wi-Fi (selected automatically) for communicating.
This functionality becomes possible with the optional Futulele Remote app (available separately) installed on the iPhone/iPod Touch. Futulele is available for $4.99 (launch price) from the AppStore: https://itunes.apple.com/WebObjects/MZStore.woa/wa/viewSoftware?id=527394207&mt=8
Powered by

Sidelines
Previous Post Tango Chase (iOS) Game Review: Exceeds Expectations
Next Post The Touch Tactics Team Want You In Their Kickstarter Project