Tango Chase (iOS) Game Review: Exceeds Expectations
Herotainment's iOS platformer, Tango Chase, has all the ingredients for an excellent platformer. The game's colourful graphics, tight controls and challenging gameplay elements make for an exciting game and no doubt will get folks hooked on it. Players control Tango (some of you may recognise him as one of the characters from the popular online world Herotopia), as he is out to rescue his sweetheart (a classic Mario-scenario).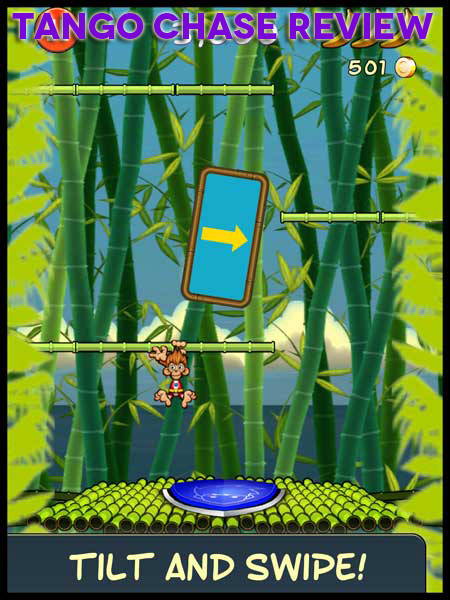 In order to do so, he'll need to swing his way through vertical oriented levels, collecting bananas, coins and gems as well as power-ups. The game features a whopping 70 levels, which is not bad for a freemium title, and not to worry, the in-app purchases are solely for coins (which you can earn the normal way) used to purchase upgrades, and to remove the ads, which are at the bottom of the screen.
One thing I find about Tango Chase is that the game is really challenging. Levels are filled with obstacles and you'll need to be really deft with tilting your iPhone around in order to succeed. A little trial and error goes a long way as well with the levels and persistency  will definitely get you to the end of each level (which just goes to show you are getting a bang for your freemium buck in this game).
Nine Over Ten 9/10 rates Tango Chase at a 4.5 out of 5. The game is available for free on the iTunes App Store: https://itunes.apple.com/us/app/tango-chase/id516310703?ls=1&mt=8.
A review code was provided to Nine Over Ten 9/10 for the purpose of this review.
Powered by

Sidelines
Previous Post Zepi: Dark HD (iPad) Review
Next Post Digital Ukulele Arrives for the iPad