Disney Announces New Levels and iCloud Support For Where's My Water?
Disney Mobile released today several new chapters for its hit game Where's My Water?. In the paid version of the game, Disney introduced the "Lost Levels," 20 classic levels from Where's My Water? Free.  The "Lost Levels" are available in their own chapter that will continue to expand in future updates.  In addition to the "Lost Levels," Where's My Water? now features iCloud support so players can synchronize their progress across multiple iOS 5 devices.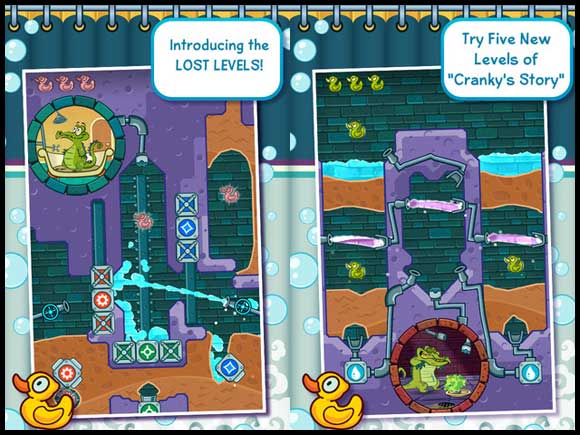 Disney's newest update to Where's My Water? also includes the release of "Overstuffed," the final chapter and last 20 free levels in "Cranky's Story," the premium level pack for Where's My Water?.  "Cranky's Story" is available via in-app purchase for $1.99 and now includes more than 80 levels to extend the story of Swampy's reluctant companion and occasional adversary, Cranky.
The story of Swampy, also continues in the newest chapter of Where's My Water Free?.  Titled "Days of Summer," the chapter includes 12 new levels exclusive to the free version, in which players control where water flows as Swampy hits the beach to get some much needed sun. Tri-duck all the levels and players unlock "Swampy's Picks", five popular levels from the paid version, for free.
Since launching in September of 2011, "Where's My Water?" has reached the No. 1 spot on the App Store in 80 different countries and most recently, Apple announced that "Where's My Water? Free" made App Store history as the 25 billionth app downloaded.  The game also launched on Android platforms in November of 2011 where it has enjoyed similar success.
To download "Where's My Water?" for the iPhone, iPod touch or iPad, please visit: https://bit.ly/zqCymv
Powered by

Sidelines
Previous Post Hit Board Game Scotland Yard Makes iOS Debut
Next Post Hello Diablo III, Meet My Spouse