Luxor Evolved HD (iOS) Game Review: One of the Best Games of 2012
Having played Luxor Evolved HD for the past few days, I can sum it up in these few words: it's one crazy game. Not the bad kind of crazy, but the kind where you take the colourful marble shooter of yore, mix it up with Geometry Wars' retro-visuals and add in a dash of Tiesto. Yup, it's crazy psychedelic experience that will leave you yearning for more.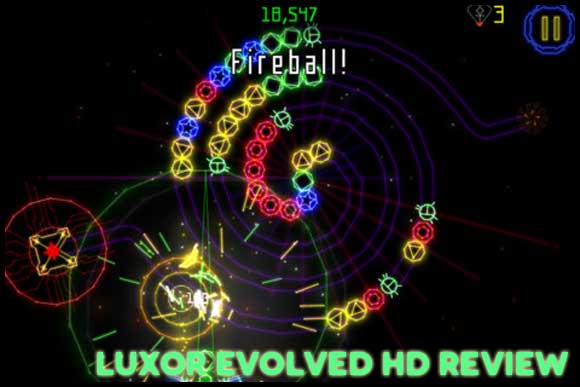 The developers at MumboJumbo really turned the game on its head and blasting like-coloured chains of marbles crawling towards your pyramid is not the only thing you do here in Luxor Evolved HD. Taking cue from other "evolved" (read: 21st century remakes of retro games) games out there, Luxor Evolved HD boasts different gameplay modes in the form of bonus levels…and get this…BOSS FIGHTS!
The game also sees the return of those cool level titles; here's a sample: "Reign of the Heretic King" (the game is probably referring to Akhenatan…. I have National Geographic magazine to thank for this). You would probably stop reading the review if I used the word "awesome" one more time to describe the game, so let me tell you this. Get it now! Nine Over Ten 9/10 rates Luxor Evolved HD at a 5 out of 5.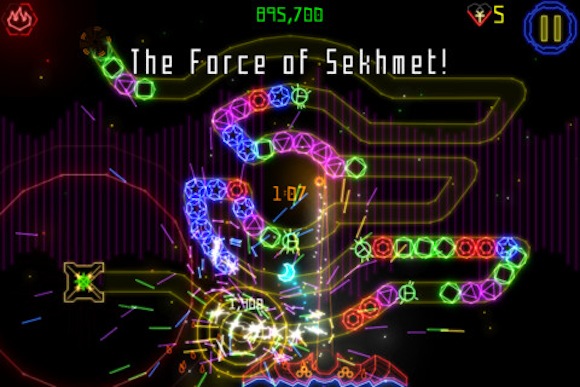 The game is available on the iTunes App Store for 99 cents. Check it out over here: https://itunes.apple.com/us/app/luxor-evolved-hd-full/id514363764?mt=8. A review code was provided to Nine Over Ten 9/10 for the purpose of this review.
*Note to 3GS users: The game features graphics that can bring your device to its knees, so be sure to clear all other apps which are running in the background before launching Luxor Evolved HD. Having said that, the game is a universal app, so run in on an iPad and enjoy!
Powered by

Sidelines
Previous Post Watch the Diablo III Animated Short "Wrath"
Next Post Defender Chronicles II (iOS) Coming Soon, Watch the Trailer Here!