ZiGGURAT (iPhone) Game Review: Get This Game
If you were to ask the intrepid hero in the retro-looking ZiGGURAT for the iPhone on how is it like to be the last human on earth, standing on the titular ziggurat with only a giant laser rifle against hordes of aliens who have killed everyone else..he would probably ask you to sod off.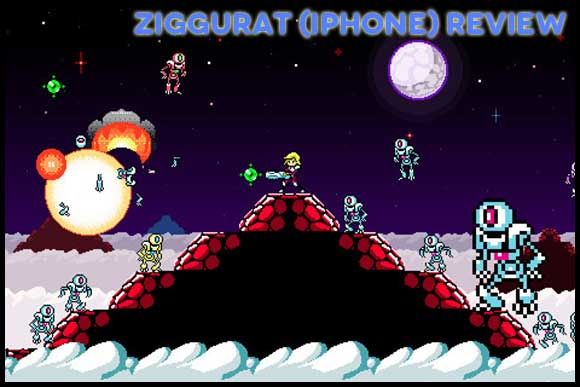 Can't blame the poor chap though, he is stuck in a no-win scenario and one can only hope that he can take out as many aliens as he can. He's probably a student of Nick Fury's doctrine…you know, the eye-patch wearing dude from The Avengers spouting  the uber-cool line: "Because if we can't protect the Earth, you can be damn sure we'll avenge it!"
Players are in for a heck of an action-filled ride even though the hero is stationary on top of the ziggurat, as they'll need to aim that laser rifle around using one of two methods. The laser rifle is capable of being charged for a larger blast, and taking advantage of this will result in large swaths of aliens being blown to bits.
The Game Center and OpenFeint connectivity feature a whole bunch of leaderboards and achievements, which is pretty cool. But that's not the one thing you'll be sticking around for…it's the fact that you'll want to take down more and more of those one-eyed alien bastards. LOL.
Addictive and featuring retro-graphics (not to mention a game over screen that is just rad…I mean red), ZiGGURAT gets a 4.5 out of 5. HIGHLY RECOMMENDED. The game is available for just 99 cents on the iTunes App Store: https://itunes.apple.com/us/app/ziggurat/id498448797?mt=8.
A review code was provided to Nine Over Ten 9/10 for the purpose of this review.
Powered by

Sidelines
Previous Post Line Gunner (iPhone) Review: Fast, Jumpy Action