Diablo III Beta (Mac) Final Impressions
I finished playing the Diablo III Beta over the weekend and it was an awesome experience. There were several things that stood out. First of all, events. These aren't quests per se, they are confined to a certain location and are likely triggered when you touch something. There were two events in the beta, one involved finding some dead woman's bones and another (which is a personal favourite of mine) which you need to survive an onslaught of skeletal warriors for 60 seconds.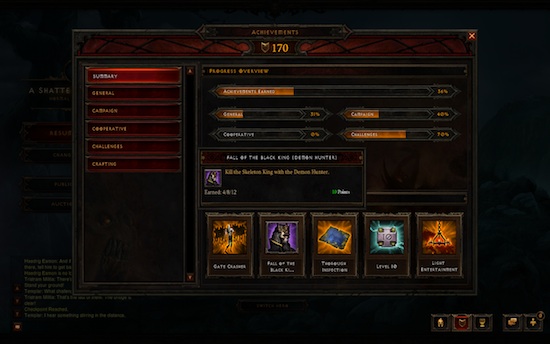 The final boss battle was against the Skeleton King and that was pretty cool as well. I remember facing off with the same bony old chap back in Diablo I, this time he certainly looks more fleshed out. LOL. For those who are curious, the beta's level cap ends at 13 and hitting 10 will unlock the hardcore mode.
Now I'm just going about trying the game with different characters, and the game makes it a point to give achievements for finishing the game with each of the characters. Co-op play was something that I tried this morning, and players can just drop in and out of co-op play. It was suprisingly lag free but I think I've got my Internet service provider to thank for that.
Everything looks to be shaping up well for Diablo III, and I even got a mention on The Star's newspaper article on the beta key giveaway (https://techcentral.my/news/story.aspx?file=%2F2012%2F4%2F6%2Fit_news%2F20120406105222&sec=it_news). Now if only I can get my hands on a review copy of the final game in May.
Note on System Requirements: I ran the Beta on a Mac Mini (Mid 2011 Model) running an Intel i5 processor with 4GB of RAM. Performance wise it was not as smooth as that of on my MacBook Pro (Mid 2010). This was probably due to the graphics processors with the MacBook Pro using a Nvidia 320M vs the Mac Mini's Intel HD Graphics 3000.
UPDATE: For my first impressions of the beta, check out this post (click here). If you are looking to get the best price for Diablo III online, do check out PricePanda right over here.
Powered by

Sidelines
Previous Post Retro Racing (iOS) Game Review: 2D Racing Doesn't Get Any Better Than This
Next Post Hit iOS Tower Defense Game Tesla Wars Now Available for Free!