Crytek Releases Fibble Free (iOS) Just In Time For Easter
The lure of the App Store is so great even the folks at Crytek (the makers of Far Cry and Crysis) have released their first ever mobile game, Fibble, a physics-puzzler targeting the casual crowd but maintaining the company's solid gameplay and graphical prowess. The game was released last week and this week, Crytek has just announced the release of the free version of the game, just in time for Easter!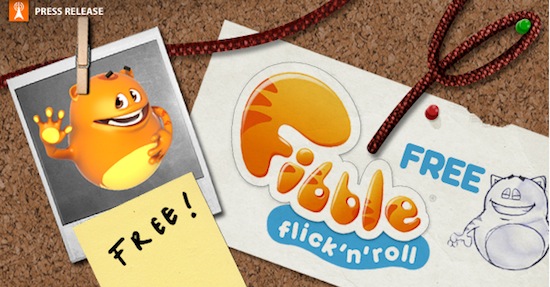 Fibble Free grants players access to the first two rooms featured in Fibble's journey – the kitchen and the bathroom. In these levels gamers can look forward to a taste of the addictive gameplay and excellent graphics on offer in Crytek's debut release for mobile devices.
"We wanted to offer everybody the chance of trying out Fibble – Flick 'n' Roll, because this is our first game in the mobile space, and is not what people expected from us. Therefore, as it is Easter, we decided to release a free version." states Nick Button-Brown, General Manager – Games of Crytek, "We are really proud of Fibble, and want to encourage as many people as possible try it. Also, we aren't stopping the development process for the game now that it has been released and continue to work on new content. We will release this content for free for the full versions of Fibble in the near future."
Fibble – Flick 'n' Roll places players in control of the cute, but curiously brave, Fibble – an extraterrestrial who has crash-landed on earth and become separated from his crew in the process. Your goal is to help Fibble find his friends, and combine the unique skills of the crew whilst navigating across the rooms of a suburban home. In comparison to the free version, the full edition features 30 puzzling levels spread throughout several rooms of a fun-filled suburban home.
The full version of Fibble – Flick 'n' Roll is available from the App Store for $1.99 / €1.59 on iPhone and iPod touch, while Fibble – Flick 'n' Roll HD can be downloaded for $4.99 / €3.99 on iPad. For more information, please visit www.fibble.com or https://itunes.com/apps/crytekgmbh
Powered by

Sidelines
Previous Post Jump On Board: Froggies (iOS) Board Puzzler Now On The iTunes App Store
Next Post Retro Racing (iOS) Game Review: 2D Racing Doesn't Get Any Better Than This