Don't Fry the Frog! (iPhone) Game Review: Simply Thrilling!
Don't you hate flies? I don't like them and having a wet kitchen it's always a distraction to see a stray fly get into the kitchen through one of the open windows and for me, they are a nuisance that need to be addressed immediately (thus distracting me from the task at hand, which is usually cooking).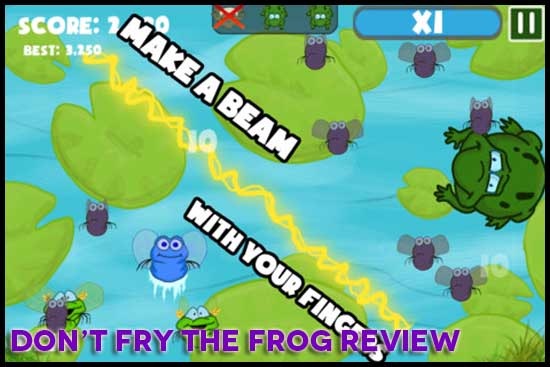 In any case, Blacktorch Games' Don't Fry the Frog is probably the first game that I've encountered that allows me to indulge in fly-killing (Fallout's Bloat Fly doesn't count as those are crazy-assed mutant flies out for your blood). The premise of the game is pretty simple, the frog from the game's title is on a diet, so don't let him eat most of the flies.
Your task would be to use your two thumbs to create a beam on the screen to kill almost all the flies that show up, without harming the poor frog wandering around the same screen. However, you can spare the healthy flies that he is allowed to eat, some of which will impart bonuses to you and the frog. Killing certain types of flies with award you with more points as well, but more importantly is keeping your fingers on the screen, as this activates a multiplier for points.
Players also earn coins as they play the game and these coins can be used to purchase items and power-ups that will help the poor chap survive longer (what with the beams and unhealthy flies that will cause him to explode..you read that right :P). The game has Game Center leaderboards and this is always an awesome feature to have on a points-based game and it's cool to check on how you are faring against the rest of the world.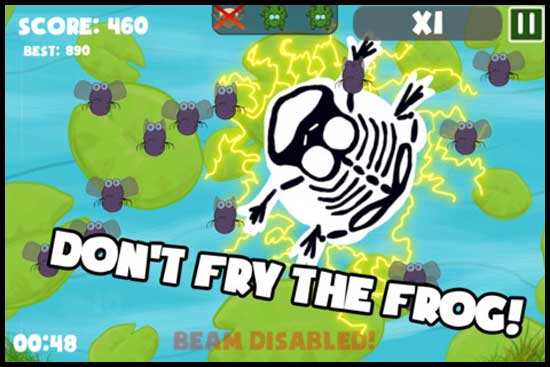 Don't Fry the Frog is one thrilling casual game and an addictive one at that. Nine Over Ten 9/10 rates the game at a 4.5 out of 5 and since it's FREE, you've got no excuse to not check it out: https://itunes.apple.com/us/app/dont-fry-the-frog!/id498175623?mt=8
A review code was given to Nine Over Ten 9/10 for the purpose of this review.
Powered by

Sidelines
Previous Post iFighter 2: The Pacific 1942 (iOS) Arrives on iTunes App Store