Justin Mac Fart (iOS) Game Review: Let It Rip!
Molecube's latest iOS game, Justin Mac Fart, is one game you shouldn't be playing in a crowded subway (or elevator for that matter) with the speaker volume turned up. The game is based on Molecube's original hit, Monsieur Monsieur, and those who are familiar with the game would find Justin Mac Fart to be more like a re-skin of the game.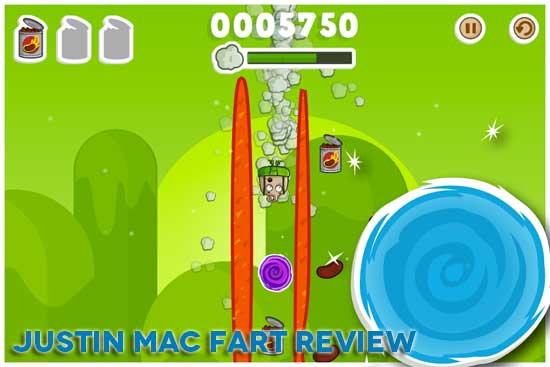 According to the developers, Justin Mac Fart is a marketing experiment whereby they reskin a game, and then put it up as a freemium title, as opposed to the original game being a paid title. So while those guys at Molecube are busy looking over Excel sheets to see whether this kind of experiment actually works, we on the other hand get to enjoy a new game complete with farts, beans and outhouses.
Set in a Mexican premise, Justin Mac Fart will have players pulling on his suspenders, and then releasing them to launch him up in the air with the objective of collecting beans, cans of beans and ultimately getting to the outhouse. The poor chap gets air time by farting, and there's a certain number of farts he can pull off before needing to cool off. Lets just say that the game receives an A+ for sound effects and leave it at that.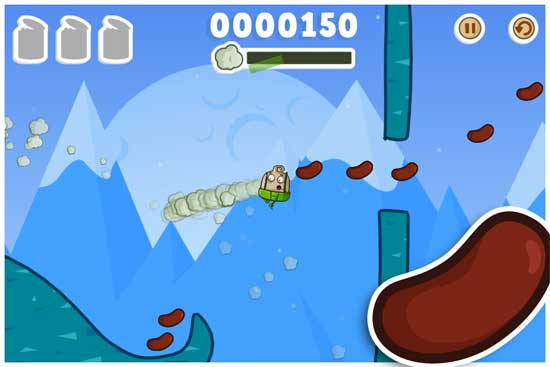 Levels are unlocked as you finish the preceding levels. The game also comes with Game Center integration for achievements. Justin Mac Fart's graphics and sound effects combine to make it a "farting" good time. LOL. Nine Over Ten 9/10 rates Justin Mac Fart at a 4.5 out of 5. The game is available on the iTunes App Store for free, with a 99-cent in-app purchase to unlock the full game: https://itunes.apple.com/us/app/justin-mac-fart/id496017760?mt=8.
A promo code was provided to Nine Over Ten 9/10 for the purpose of this review.
Powered by

Sidelines
Previous Post (Sponsored Video) New Lazer Bird From Angry Birds Space Gets Introduced By Samsung Galaxy Note