Rainbow Link (iPhone) Game Review: Excellent!
Often times match-3 (or anything match-n with n being any number) games degenerate into random tile swapping mess with players desperate to bring in the points, it's seldom to see a thinking-man's game where any action by the player needs deliberation, like chess. Fortunately, Wanderling Games' maiden iOS title, Rainbow Link, is of such pedigree.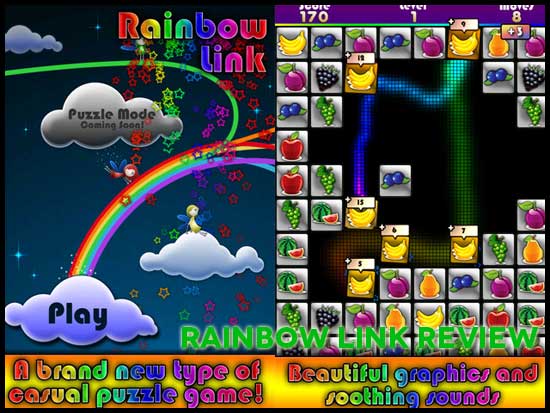 Players link up matching tiles not by switching their positions, but by drawing links between them. The challenge here is to link as many tiles as possible in one go as by doing so players are awarded with extra moves. Shorter links deduct the number of moves the player has. I really enjoy the challenge in matching every single tile with no remaining tiles left over.
That would actually require me to think ahead and plan on how I would want to go about matching tiles, as the minimum amount would be 2 (effectively making Rainbow Link a match-2 game). This game is also one of those free apps with ads that do not actually bother me, kudos to Wanderling Games for limiting the ads to just the front menu.
Rainbow Link is an enjoyable game in which the manner of enjoyment is dictated by the player, not so much the game. You can choose to go easy or put up a challenge for yourself, either way are excellent ways to play the game. Nine Over Ten 9/10 rates Rainbow Link at a 4.5 out of 5. Check it out on the iTunes App Store: https://itunes.apple.com/us/app/rainbow-link/id490453471?ls=1&mt=8
An in-app purchase removes the ads (which do not show anyways while in kids mode) along with unlocking additional tile sets.
Powered by

Sidelines
Previous Post Blast The Alien (iPhone) Game Review: A Little Same Same
Next Post Halfbrick Studios Acquires Spanish-based Onan Games