Hollow Grounds (iPhone) Game Review: Crazy Wing Suit Fun!
I had a whimsical iPhone game for company for most part of my wedding preparation for the past several weeks. Whenever I had some free time to spare (which was a rare commodity, and thank God I finally tied the knot last Saturday), the game of choice was Full Color Planet's latest title, Hollow Grounds.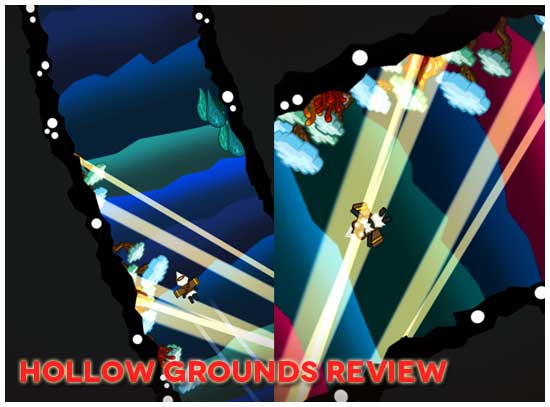 The gameplay can be described by some as one dimensional as you turn the iPhone about guiding a wing-suited cartographer by the name of Piri as he jumps into the deep dark tunnels of the planet Ella. However it's still  crazy business as you'll need to guide Piri to collect stars and special items and most importantly, to not crash to the sides of the tunnels.
Whatever you think about the gameplay is moot when it comes to evaluating the game's visuals. This is easily one of the most stunning games I've had the pleasure of reviewing in 2012. It looks amazing and the whimsical look echoes that of Ferry Halim's collection of games. I need to mention as well that the soundtrack is pretty awesome as well.
Nine Over Ten 9/10 rates Hollow Grounds at a 4.5 out of 5! The game is available for USD 1.99 at the iTunes App Store, check it out over here: https://itunes.apple.com/us/app/hollow-grounds/id488742156?mt=8
A review code was provided to Nine Over Ten 9/10 for the purpose of this review.
Powered by

Sidelines
Previous Post New Game Releases: Letris Power, Lost Little Zombie, Plant Wars and Rise of Dragonian Era
Next Post Want To Win Big Nate's Latest Book? Grab The iOS App And We'll Tell You How!