Insurgent Games Releases Source Code For iOS and Android Games For Free
This is pretty big news, indie game developers Insurgent Games has released their entire games library for free and made the source code open source! Interested developers can download the source code (both Android and iOS) for titles such as Skeleton Key, Cryptose, the internets, Aeropack and Alphabet Blocks from Github.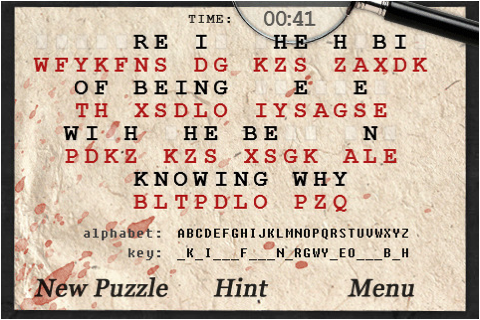 Insurgent Games was founded in 2009 by Micah Lee and Crystal Mayer out of their San Fran studio apartment. The company now however is dormant and having moved on to other things, the founders have decided to put up their work for free. All of their games are now licensed under the GNU General Public License.
Check out the description of the games below along with the download links. If you are a student building games for a final year project, or a fledgling developer, these are really good examples:
Skeleton Key
Skeleton Key is an addictive and unique puzzle game in which you shift keys around the board unlocking treasure chests
Cryptose
Cryptose is an addictive cryptogram game with three gritty occupations to choose from: Hacker, Detective, or Spy.
Aeropack
In Aeropack you must run, climb, and fly your way through 30 unique platform levels collecting all the green gems
teh internets
teh internets – When Memes Attack is a (cyber)space shooter of epic proportions
Alphabet Blocks
Alphabet Blocks is a fun and beautiful educational toy to help kids learn their ABC's and numbers!
Powered by

Sidelines
Previous Post The Main Reason I Shop Online…
Next Post Apps of the Week: Spotlight on Document Reader and KYMS 1.4 for iOS