Woodroid (iPhone) Game Review
Woodroid for the iPhone is pretty tongue-in-cheek, here you have an Arkanoid clone and instead of bouncing the ball off a paddle, you bounce the ball off the head of a Google Android mascot lookalike. Yup, you read that right. For those who are unfamiliar with the game Arkanoid, players guide bouncing balls to destroy blocks (or in the case of Woodroid, pixelart) located above the screen.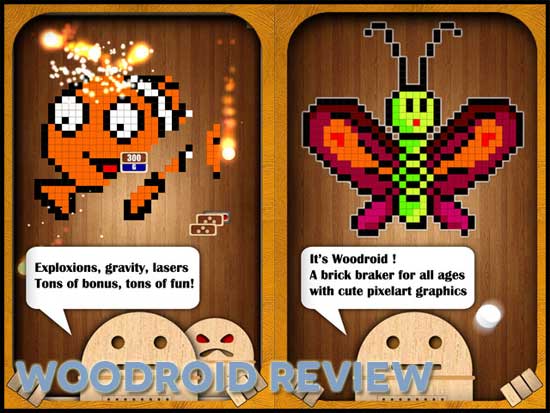 I'm not sure why I keep coming back to a game that can be described as laggy at best on the iPhone 3GS (I think you would have better luck on an iPhone 4), but I'm thinking it's probably due to three things. Firstly, the game looks great, even the pixelart that you are destroying are representative of stuff belonging to popular culture, among other things.
Secondly, the power-ups, which are a staple for Arkanoid type games, are plentiful and well represented in Woodroid. There are lasers, ball multipliers, explosives and many more. Last but not least, it's actually quite fun bouncing a ball (or balls if you hit a ball multiplier) off a Google Android mascot lookalike.
There's a fourth point, but it's more applicable to gamers like you, looking for something to add to your library without breaking the bank: Woodroid and its over 100 levels are available for FREE on the iTunes App Store. The game is ad-supported but from what I can see, it's probably the most non-intrusive implementation I've seen so far. There's an in-app purchase costing USD 0.99 to remove the advertisements.
Nine Over Ten 9/10 rates Woodroid for the iPhone at a 4 out of 5, do check it out. The game is available for free on the iTunes App Store: https://itunes.apple.com/us/app/woodroid-brick-breaker-for/id499941685?mt=8
Powered by

Sidelines
Previous Post GameStar February 2012 Issue Released: Syndicate, Kingdoms of Amalur Reviewed
Next Post Bargain Hunters: Charadium (iPhone) Goes Free This Weekend!