GameStar February 2012 Issue Released: Syndicate, Kingdoms of Amalur Reviewed
I was at the bookstore earlier this evening picking up a copy of Runners World (yeah, I run, check out my fledgling running blog at kakilari.com) when I stopped to look at the video games magazine section. It got me thinking how long has it been since I last bought a video games mag…it was probably 5 months ago and it was either an issue of EDGE or Retro Gamer. Both are UK publications, and in the case of the latter, an expensive UK publication.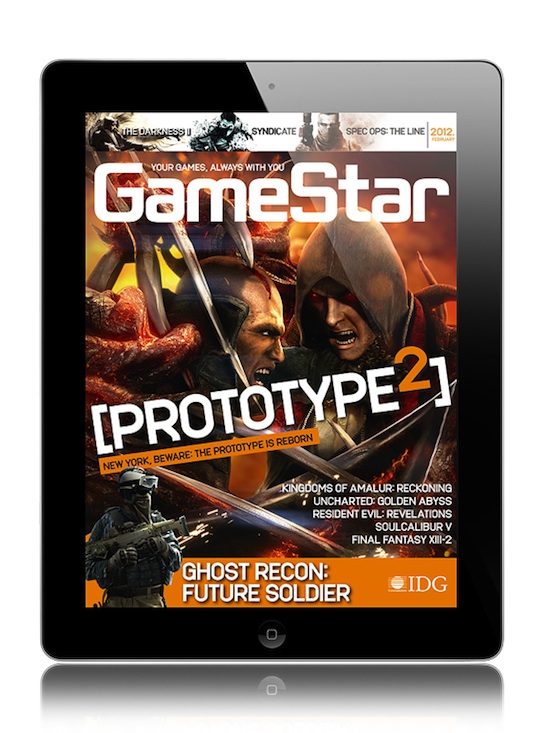 On the other hand, the App Store is actually home to a number of cheaper video game reads that you can read off your iPad or iPhone. Take for instance GameStar. The February 2012 issue is out now and is available as a USD 3.99 in-app purchase with 12-issue subscription going for USD 39.99. This issue covers exclusive previews on Prototype 2, Ghost Recon: Future Soldier, and Spec Ops: The Line.
Reviews include that of Syndicate (! OMG I want to see how this matches up with Deus Ex), Darkness II, Kingdoms of Amalur: Reckoning, Resident Evil Revelations, I Am Alive, Final Fantasy XIII-2, SoulCalibur V, Uncharted: Golden Abyss and more. Check out the app over here: https://itunes.apple.com/hu/app/gamestar/id493006640?mt=8
Powered by

Sidelines
Previous Post PS Vita Now Available In The U.S, Ultimate Marvel Vs. Capcom 3 Out Now!
Next Post Woodroid (iPhone) Game Review