Atari's Breakout: Boost (iOS) Casts a Romantic Spell with Valentine's Day Updates
I gotten a belated Valentine's gift from my wife and it's a pretty cool Paul Frank t-shirt. So I guess there's no harm in putting up this piece on Breakout Boost's (iOS) Valentine's Day-related update. Atari's popular Breakout®: Boost, which has achieved 2.5 million downloads on iPhone, iPod touch and iPad, today received a sweet update: a Valentine's Day level pack, available now through a $0.99 in-app purchase.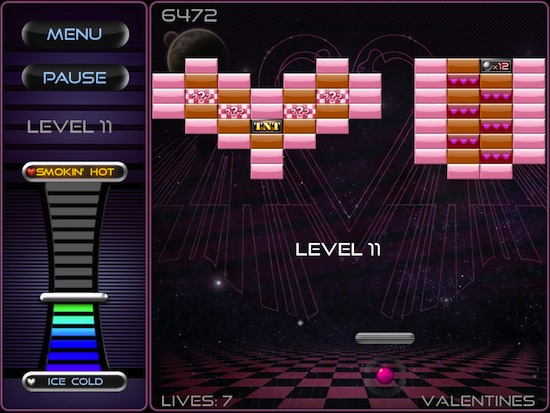 The pack celebrates Valentine's Day with 50 new, romantic levels and brick layouts displaying candy heart sayings and cute pictures. Also included is a Cupid's Arrow power up which helps break those romantic bricks to pieces more quickly. Lastly, players can show their love for the new levels by competing for leaderboard placement and earning new achievements for completion.  Players can purchase the new content for $0.99 by updating their App and selecting the Valentine's Day Pack under "New Game"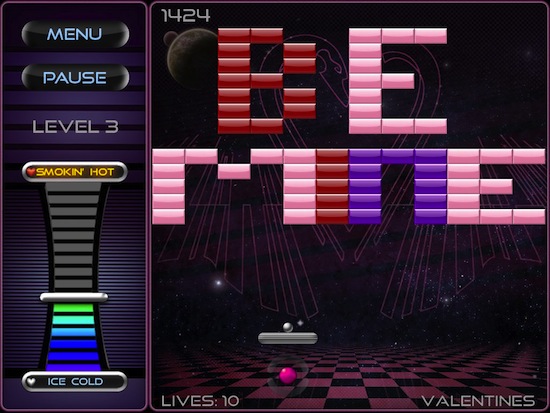 Download the original, free Breakout: Boost, with 5 original levels and over 250 more available through in-app purchases, including the new Valentine's Day levels: https://itunes.apple.com/us/app/breakout-boost/id476059948?mt=8.
Download Breakout: Boost+ for $0.99, with 100 original levels and 50 Valentine's Day levels available through in-app purchase: https://itunes.apple.com/us/app/breakout-boost/id494136657?mt=8.
Powered by

Sidelines
Previous Post New Screenshots From Ultimate Marvel vs. Capcom 3 PS Vita Edition
Next Post Spacetime Studios New MMORPG Dark Legends Teaser Trailer Out Now