Death Call (iPhone) Game Review: Bang Bang
I can't believe that I've been playing two fixed-position first person shooters in a single week, but it's all good. The first one was Gun Strike (checkout the review here), and the second one, which is the subject of this review, is a cowboy-western-inspired game called Death Call (it even sound like the title of one of those cowboy-western books at the bookstore).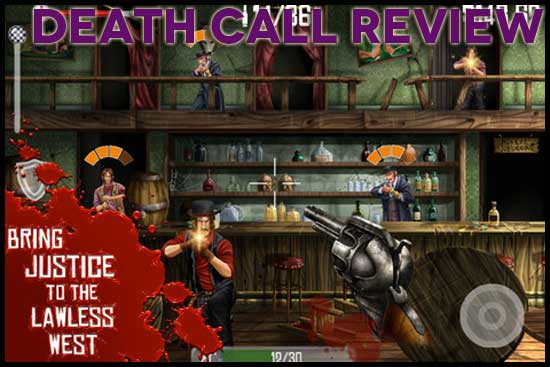 In Death Call, players take on the role of Federal Marshall Jedediah Wolfe, out to give weapons smuggler Saul Ramone, a whole lot of grief. Given the time period, you get to handle plenty of old-school pistols and shotguns, with each of them featuring difference characteristics. Where I am now, the gun that I'm using puts out a lot of damage, but is notoriously inaccurate.
Being a freemium title, Death Call's developers earn their keep by selling you weapon permits which can be also earned (albeit slowly) while playing the game. These WPs along with the credits you earn from killing enemies allow you to purchase better guns and more ammo.
The game's pace can be really frantic, but thankfully, enemies that pop-out come with a meter indicating when they are about to fire. Some of these folks are more dangerous than others, capable of bringing your health down to 0 with two or three shots. So yeah, remember to deal with those threats as soon as you can.
Death Call's a pretty badass-ed shooter, Nine Over Ten 9/10 rates it at a 4.5 out of 5. Check it out over here: https://itunes.apple.com/us/app/death-call/id466584039?mt=8.
Powered by

Sidelines
Previous Post Ghost Trick: Phantom Detective Now Available For iOS Devices
Next Post TikTak Games Releases Bubble Planets 1.0 (iOS) For Free