JAZZ: Trump's Journey (iPhone) Review: Simply A Triumph!
I wouldn't be surprised if people were to call Bulky Pix's latest iOS title, JAZZ: Trump's Journey as the smartphone gaming's answer to Prince of Persia. This here is platforming at its hardest and most beautiful. JAZZ: Trump's Journey is a 2D platformer set in New Orleans when jazz was just taking root as a music genre.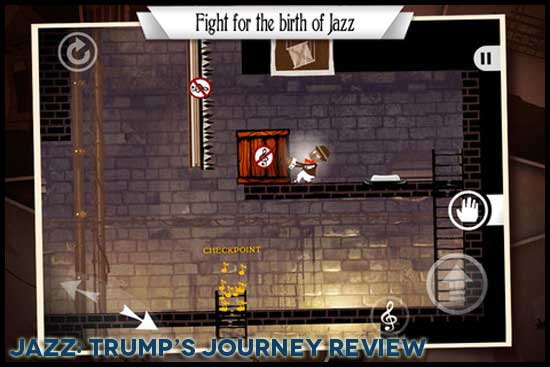 Players take the role of Trump, who is retelling his story on how he became a famous jazzman and it's during this adventure he recruits band members to form a jazz band. Like I've mentioned earlier, the game is beautiful, featuring stylized art inspired by 1920s New Orleans but the star of this game is the amazing soundtrack.
The accompanying music is just awesome and it just gets better and better as players progress through the levels and recruit more bandmates. The game is a platform puzzler at heart and actually features some of the most hardest platforming I've ever done on an iOS game…and it nearly made me renew my vow that I made years ago to stay away from platformers.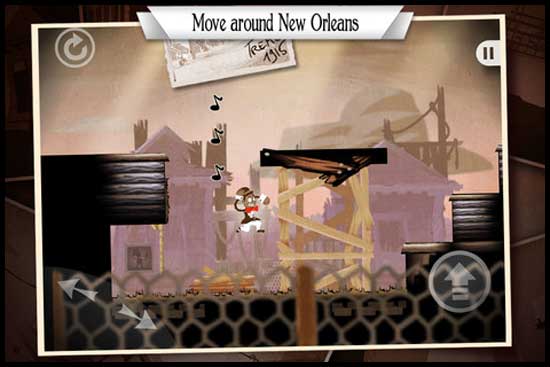 JAZZ: Trump's Journey is an ode to the music genre and a well-crafted platformer so much so that limiting this game to a single platform would be a shame (do you hear me Bulky Pix!?). Nine Over Ten 9/10 rates JAZZ: Trump's Journey at a 5 out of 5 for being simply amazing. The game is available on the iTunes App Store for USD 2.99: https://itunes.apple.com/app/id478314434
A review code was provided to Nine Over Ten 9/10 for the purpose of this review.
Powered by

Sidelines
Previous Post Humble Bundle for Android Released!
Next Post Dark Incursion (iPhone) Supports Joypad and iCade, Price Drops to USD 0.99