Gesundheit! (iPhone) Game Review: Simply Outstanding!
Konami's Gesundheit! is a prime example how iOS games can give certain Nintendo 3DS Download Software titles a run for their money. At just USD 1.99, you get an amazing looking game, with storybook-like graphics accompanied by great action/puzzle gameplay, something that can't be said for some of the more expensive titles you find on Nintendo's eShop.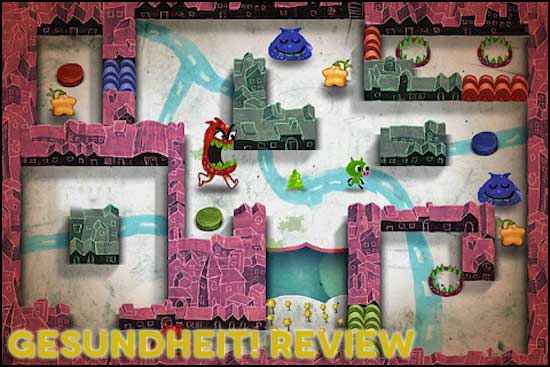 In Gesundheit!, players take the role of a little pig with a runny nose, who is out to save his town from invading monsters. The only way to do that would be to distract the monsters by expelling your snot (apparently they really like eating snot…like some fellas I used to know back when we were kids), and luring them into traps.
I can't get enough of how beautiful each levels look like, and while you are at it, do not forget to collect the pears lying around the levels as this will also judge how well you do in each level. I gotten the game when it was available for 99 cents on the iTunes App Store, and despite the game reverting to its original price, it is one game that deserves to be in your iOS game library.
Nine Over Ten 9/10 rates Gesundheit at a 5 out of 5, simply outstanding. The latest update brings OpenFeint connectivity, complementing the Game Center connectivity provided when the game was released. Check it out over at the App Store: https://itunes.apple.com/us/app/gesundheit!/id449344432?mt=8
Powered by

Sidelines
Previous Post Mighty Switch Force (3DS) Game Review
Next Post Master Chief Wishes You Happy Chinese New Year 2012!