Mighty Switch Force (3DS) Game Review
Long time readers would know that Nine Over Ten 9/10 started on the basis of reviewing Nintendo DS games, and you guys would've probably known that it was a matter of time before I start reviewing Nintendo 3DS games. Well, the time is now and the game having the distinction of the first 3DS title to be reviewed on this site is WayFoward's Mighty Switch Force.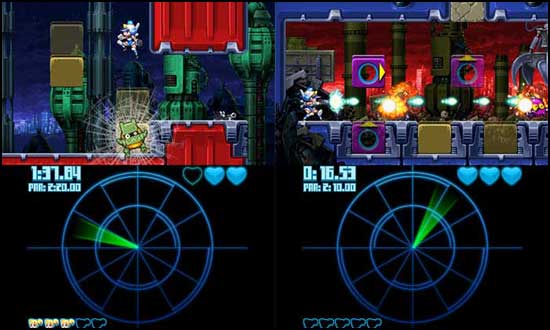 This puzzle action-platformer is something that wouldn't look out of place on the iPhone, but it does make use of the 3D in 3DS (sounds a little lame, but I'm just starting out here, so bear with me please). In each level, you are supposed to go about running, and gunning and capturing all the female convicts that seem content enough to be hanging around.
The first two things, running and gunning are pretty run of the mill, and basically makes up two thirds of the genre mashup: "action" + "platforming". However, it's the puzzle part that gets the cake. In order to make your way to each of the female convicts, you will need to go through several obstacles which also double up as puzzles. Your space-cop character is equipped with the ability to phase in (and out) stuff, mainly blocks.
By doing so, you can create steps to reach hard to get places, crush enemies (by phasing in blocks on them, pinning them onto the screen (so much for the fourth wall eh), trapping enemies….you get the idea. And to me, it's totally fun! There's a par time in each level that you can strive to beat, but I think that's for those who had tons of practice and crazy reflexes.
Nine Over Ten 9/10 rates Mighty Switch Force at a 4.5 out of 5. The game is available on Nintendo's eShop for just USD 5.99.
Powered by

Sidelines
Previous Post JAZZ: Trump's Journey Set For iOS Debut, Main Theme Song Now Available
Next Post Gesundheit! (iPhone) Game Review: Simply Outstanding!