Bubble Jets (iPhone) Game Review
Jumping jellybeans Batman! Heh. I've been dying to put that down ever since playing Bubble Jets for the iPhone, simply because the cute duckies in this water physics game kinda reminded me of jellybeans. The game takes inspiration from the handheld water jet games that we used to play as kids.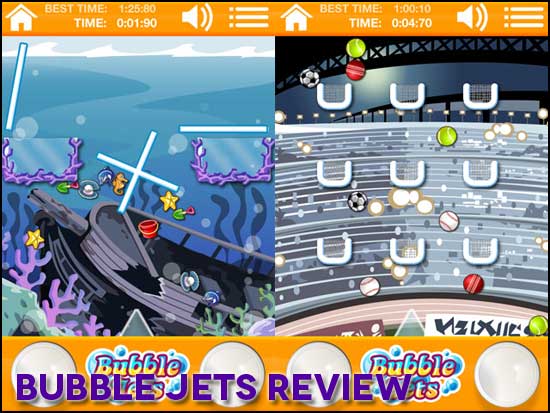 Push either buttons at the bottom of the screen to cause jets of water to either shoot up from the left or right to move the cute little duckies (among other things) into the respective containers. As the levels progress, players will face obstacles that can only be overcome by some determined button pressing :). The levels themselves are brilliant, colourful 2D affairs, and the gameplay is the type that is addictive and suitable for all ages.
Players are graded by how fast they can complete a level and Openfeint integration takes care of the online leaderboards. Bubble Jets is one cute game with 12 levels spread across 4 stages. Social Agogo has done a brilliant job in capturing the look and feel of bubble jet games of yore in this iOS title.
Nine Over Ten 9/10 rates Bubble Jets at a 4 out of 5, and it's worth checking out especially if you have children. The game is available on the App Store at a price of USD 1.99, check it out over here: https://itunes.apple.com/us/app/bubble-jets/id479877548?mt=8
A review code was provided to Nine Over Ten 9/10 for the purpose of this review.
Powered by

Sidelines
Previous Post GAMEVIL Launches Social Mobile Game Chalk n' Talk for Free on Android
Next Post Best Buy's Worldwide Android Game Development Contest Enters Final Stage