This One's For The Kids: Sprinkle Junior (iPhone) Game Review
I'm not quite sure what kind of game studio would call themselves "Mediocre", but this Swedish outfit's latest iOS title is nothing but mediocre. Sprinkle Junior for the iPhone is a beautiful looking 2D physics-based title that puts players in a fire-fighting role as they use jets of water to put out fires. From the onset players would notice that the game is geared towards kids.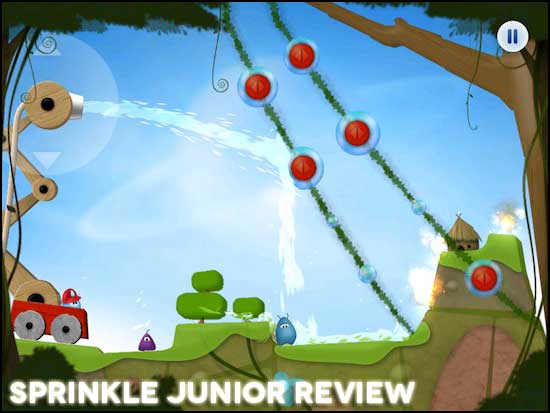 Based on Mediocre's original title Sprinkle, Sprinkle Junior puts in all the fun and challenge in putting out fires minus the time and water restrictions, along with (this may be a good or bad thing) the scores. I would understand the rationale for removing the first two, but scores are one of the minimum indicator of the player's success in a game aside from level progression.
Anyways, Sprinkle Junior is a really enjoyable title. The game's adult roots are still around, with the later levels containing surreal looking puzzles that reminded me of stuff like Katamari Damacy. Having said that, the game's visuals are amazing and the water physics got a "wow" from me at the very first level.
Nine Over Ten 9/10 rates Sprinkle Junior at a 4 out of 5. Parents would do well to get this one, but at USD 1.99, the game faces competition from its older, more complete sibling, Sprinkle. Check out Sprinkle Junior on the App Store: https://itunes.apple.com/us/app/sprinkle-junior/id474724068?mt=8.
A review code was provided to Nine Over Ten 9/10 for the purpose of this review.
Powered by

Sidelines
Previous Post Sequel to Best Selling Word Game "Befuddled" Launches with Multiplayer
Next Post Disney Mobile Reaps Rewards For Going Android This Holiday Season