BlackTower3 Destroy (Free) Released For iOS Devices
South Korean indie developer, BuBuCompany, has just launched BlackTower3 Destroy for free for iOS devices, The game is the newest in their series of highly stylized games featuring all black and white graphics, with the exception of the in-game mystical jewels. Check out the rest of the press release for details: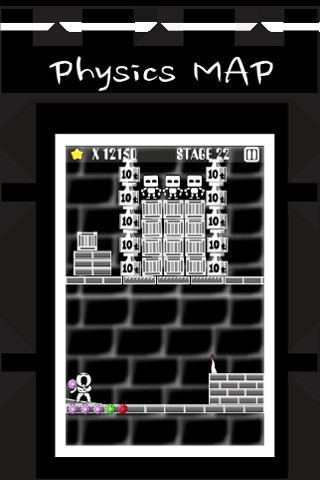 Players must kill animated, cartoon monsters behind moving and stationary barriers. The player fires an Amethyst, Emerald, or Ruby, each of which ricochet off seven surfaces before dropping to the ground. With 100 stages and ingenious puzzles, detailed motion trails of gemstones create hypnotic patterns against the black and white graphics. The physics engine, graphics engine, and sound effects are perfectly tuned to provide an always-exciting gaming experience.
There are more than ten different, small, animated monsters in the game who shuffle their feet and look around trying to avoid being noticed. They are hiding, alone or in groups, from the player who is a simple stick figure in the lower left of the screen. Played in portrait orientation, the monsters take shelter on a never-repeating assortment of bizarre structures, on a gameboard filled with obstacles and barriers that make for some very complex ricochets.
Depending upon the composition of the item, it will emit a particular sound when hit by one or more gemstones bouncing off surfaces at various speeds. The object of the game is to clear the board of all the monsters, earning one, two, or three stars depending upon the number of gems required. When all the monsters are gone, the player moves to the next stage.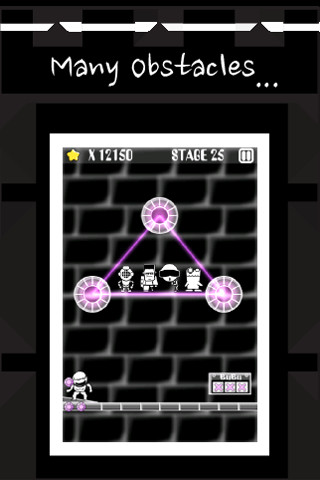 Besides the web of angles in each puzzle, each gemstone has a special capability, and players can select the gem they want to fire (only the launch angle, not velocity, can be controlled with a touch gesture) from those available at that stage. Pinkish violet Amethysts behave normally, bouncing predictably off objects with the angles equal before and after collision.
The deep green Emerald also behaves normally, until the player taps the screen while it is moving and it splits into two Amethysts, capable of twice the destruction. The blood red Ruby is similar, but explodes, rather than splits, when the screen is touched.
The gameplay is always highly dynamic with very creative puzzles, projectiles, interactions, and strategies for winning. The stylized, black and white graphics and animation establish a film noir mood, while the shooting gems and motion trails show up in high contrast. BlackTower3 is an eye-catching physics game for iOS that brings some of the style of Frank Miller's "Sin City" to iDevices everywhere.
Check it out over at: https://itunes.apple.com/app/id481600920
Powered by

Sidelines
Previous Post Video Game Bargains Not To Be Missed This Week
Next Post Sequel to Best Selling Word Game "Befuddled" Launches with Multiplayer