Seasons Greetings With The Walking Dead: Zombie Bash: Christmas Attack (iPhone) Game Review
In Zombie Bash: Christmas Attack, Santa Claus has been transformed into a one-man defense against a zombie invasion. In this arcade game, players will need to make sure that Mr Claus survives the hordes of zombies attacking houses during Christmas. Standing on roof tops, players will need to shoot the hordes (by tapping crazily at the screen) that are climbing up the walls.
The only thing protecting Santa from the cold dead grasp of the undead are a line of defense made out of gifts and if that line is breach (and it's easily breached mind you) and a zombie goes through it to get on the roof, it's lights out for Mr Ho-Ho-Ho. There are a number of power-ups that can be beneficial in your fight against the undead horde, while there's a particular power-down that freezes Santa in his place for a few moments.
There are a total of 8 houses to protect, and the last one is crazy shooting mad-fest. Santa will need all the luck he can get and during my third attempt at playing the game, I managed to get 12th in the overall high score leaderboard and 1st place for today. LOLz. Yup, that's the top 1%. The game lags a little when the action gets hot but I doubt you'll get that when you are using an iPhone 4S.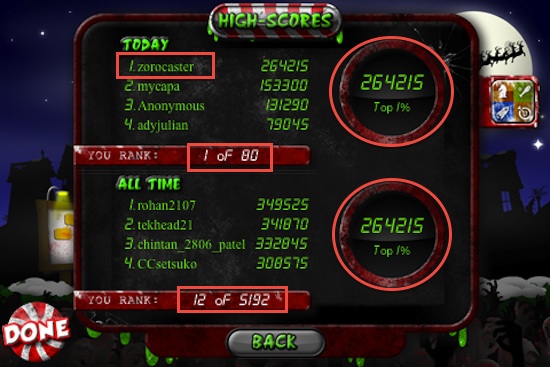 Zombie Bash: Christmas Attack may just be my favourite Christmas themed-title for the iPhone this season. Nine Over Ten 9/10 rates this game at a 4.5 out of 5. The game is available on the iTunes App Store for USD 0.99. Check it out over here: https://itunes.apple.com/us/app/zombie-bash-christmas-attack/id478013799?mt=8
Powered by

Sidelines
Previous Post Monkey Island Tales Episode 3 Is Now Available on iPhone
Next Post Indie Game Developer Interview: Matthew Crandall (Appy)