iStoryTime (iOS) Childrens' Books Pre-Christmas Sale at USD 0.99 Each!
The folks at Zuuka are celebrating Christmas in a really big way, with a pre-Christmas sale of its entire 130-plus library of iStoryTime mobile children's book. Originally priced between $2.99 and $8.99, all storybooks are now just $0.99. This includes nine No. 1 hits from 2011 as well as other popular storybooks for the iPhone, iPad and iPod touch, including: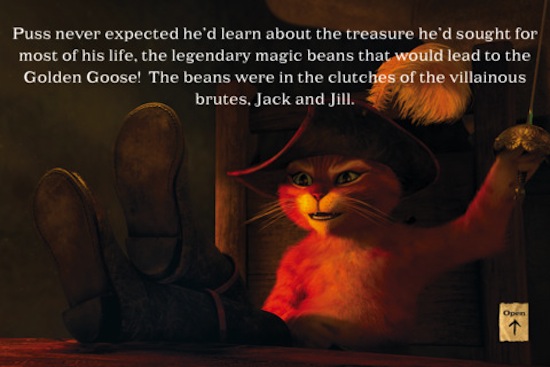 Following the original plot of the Puss In Boots feature film, the storybook unveils the backstory of Puss before he met Shrek. The storyline starts when the suave and furry feline hero goes on a swashbuckling ride and teams with mastermind Humpty Dumpty and the street-savvy Kitty Softpaws to steal the famed Golden Goose that that lays the Golden Eggs.
This story brings Author Alyssa Satin Capucilli's wonderful and popular book to life. The book is about the little yellow puppy Biscuit, who goes on an adventure to find the perfect gift for everyone he loves. More importantly, he finds out the true meaning of sharing.
Follow the magical little creatures Papa Smurf, Grouchy, Brainy, Clumsy, Gutsy, and Smurfette on their exciting and unimaginable journey to a faraway land called New York City. Fleeing the Evil Wizard Gargamel and his sneaky cat Azrael, the six Smurf friends end up in the apartment of a young couple that is equally surprised by their arrival. With their special humor and a great heart, the Smurfs turn their world upside down and bring fun and action to their everyday routine.
A dream is about to come true for Mika: For the first time in his life, he sets out to accompany his granny on one of her expeditions. On the day of their first joint exploration, the two have discovered a forest no one knew about to date. They anchor their airship- the Albatross – in the top branches of the highest trees and make their slow descent into the emerald green thick brush.
Follow Po living his dream as the Dragon Warrior protecting the Valley of Peace alongside his friends and fellow kung fu masters, the Furious Five – Tigress, Crane, Mantis, Viper and Monkey. But Po's new life of awesomeness is threatened by the emergence of a formidable villain who plans to use a secret, unstoppable weapon to conquer China and destroy kung fu.
Powered by

Sidelines
Previous Post Bonus Soundtracks Added to Humble Indie Bundle 4
Next Post Monday Night iOS Review Round-up: Cristiano Ronaldo Freestyle, High Tide, Ravenmark: Scourge of Estellion