Jetpack Joyride (iOS) Spreads Holiday Cheer with New Christmas Content
Everyone's favourite iOS hero, Barry Steakfries has found time to spread the Christmas cheer in the form of a new Holiday update for Halfbrick's latest iOS sensation, Jetpack Joyride. Players will no longer dream of a white Christmas as the update will allow them to soar through the frosty environment in festive attire. In this latest content update, players will be able to unlock the following content:
Santa Hat – Watch out Santa…Barry wears this classic hat better than anyone!
Santa Suit – Dress like Santa and partake in a 'Very Joyride Christmas!'
Deck the Halls Jetpack – Buckle up with the latest jetpack — a Christmas Tree — all while raining down celebrations. Delicious and shiny!
Snow Machine Jetpack – Let it snow! Create a winter wonderland with the all-new Snow Machine jetpack. Snow problem!
New Scientists – Maneuver your way through the extra tall and pudgy scientists who ate a bit too much Christmas pudding. Help them trim down and meet their New Years resolution by forcing them to run around the lab.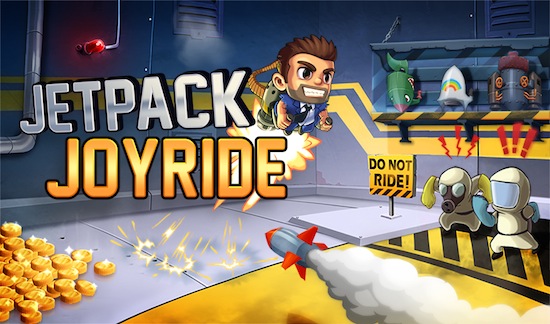 For those who are not familiar with the game, Jetpack Joyride will skyrocket players into the latest adventure featuring the lovable and mischievous hero Barry Steakfries, who captured hearts in previous Halfbrick mobile games, Age of Zombies and Monster Dash. Down on his luck, Barry discovers the ultimate opportunity to turn his boring life into one of adventure, heroics and beach chairs!
Inside a "secret" evil laboratory filled with jetpacks and mysterious obstacles, he commandeers the fun-fueled technology and literally shoots for the skies on a shower of bullets, rainbows, bubbles and more! Jetpack Joyride is now available on the App store at a price point of $0.99 for all iOS devices. To download Jetpack Joyride, check out the official iTunes information page at https://itunes.apple.com/app/jetpack-joyride/id457446957?mt=8
Powered by

Sidelines
Previous Post Break 'Em Blocks – Breakout: Boost (iPhone) Game Review