Break 'Em Blocks – Breakout: Boost (iPhone) Game Review
Hot on the heels of its well-received game Asteroids: Gunner, Atari has done it again with the release of a former retro hit, Breakout, on the iPhone. Titled as Breakout: Boost, the game features something that not many people would expect to be in a Breakout game: Boost Control, whereby players get to change the speed of the ball which playing in-game.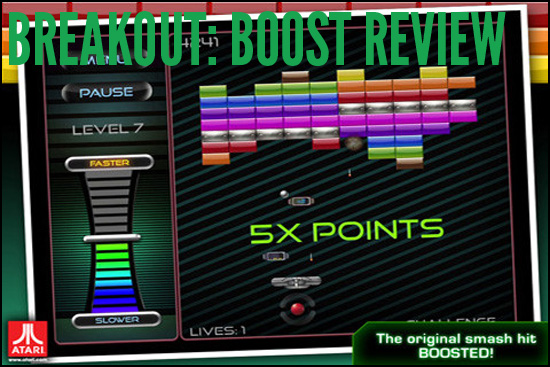 This is a classic risk versus reward gameplay that was not prevalent in the original versions of Breakout. In the case of the iOS release, the faster the ball goes, the more points multipliers the player get. This however increases the chances of players catching the ball in the first place. IMHO, the ball's high speed factored in the by the frantic gameplay doesn't detract from the point whereby the controls can serve up as a hindrance.
I lost count at the number of times my finger blocked my view on where to place the paddle that will be bouncing the ball back. One good thing however is that tapping on the screen will cause the paddle to appear, saving you time from dragging the paddle around the bottom of the screen. The game comes with both Game Center and Openfeint support, a tad overkill these days.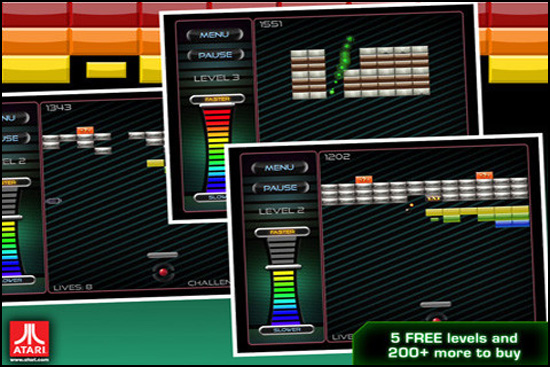 In any case, Nine Over Ten 9/10 rates Breakout: Boost at a 4 out of 5, definitely worth checking it out. The game is available for free on the iTunes App Store, with additional in-app purchases to unlock new levels. Check it out over here: https://itunes.apple.com/us/app/breakout-boost/id476059948?mt=8.
A review code was provided to Nine Over Ten 9/10 for the purpose of this review.
Powered by

Sidelines
Previous Post Child's Play Gala and Auction Raises USD 351,000 For Sick Children
Next Post Jetpack Joyride (iOS) Spreads Holiday Cheer with New Christmas Content