Indie Game Developer Interview: Simon Roof (Molecube)
Back in November we reviewed a game called Monsieur Monsieur, a game that featured mustaches prominently and it was perhaps apt that we reviewed it in the month that coincided with Movember, the charity event that involved growing mustaches (yup, weird). Anyways, we've gotten down with interviewing Simon Roof from Molecube, the folks responsible for Monsieur Monsieur. So here goes:
Nine Over Ten 9/10 (9/10): Tell us more about yourselves and how you started developing mobile games?
Simon Roof – Molecube (SR): We were already making games when we heard about the App Store. We felt very compelled to it. We wanted to make casual games that are easily accessible, hence mobile gaming.
9/10: What was the idea behind Monsieur Monsieur? And why is it teabags and sausages that we collect in the levels?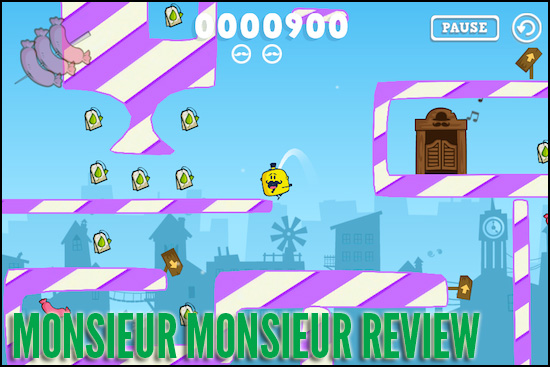 SR: Our Art Director, David Wehmeyer, had drawn this yellow fellow a little while back and when we came up with the idea of flinging a character around we immediately thought that pulling a moustache would be awesome.
As for the collectibles in the game, tea bags and sausages are of course the preferred food of gentlemen and Monsieur Monsieur is quite the gentleman.
9/10: How has the response been to Monsieur Monsieur on the iTunes App Store?
SR: It's been fairly good so far. The challenge is finding new ways to make your game stand out because there is so many apps available now.
9/10: Could you share with us a little on what you'll be working on next?
SR: We are very excited about our next project which is due in the following weeks. The best way to have all the news is to like Molecube on Facebook and follow us on Twitter.
9/10: What are your view on iOS games piracy and how has that affected you and your fellow developers?
SR: Piracy has been around for awhile, wether it's movie, music or game piracy. People have to make their own decisions. If they like a product most people will pay for it in order to encourage the coders, designers and artists behind it.
9/10: Any words for aspiring game developers out there?
Work hard and talk about your games to as many people as you can.
For more information about Molecube, check out their website, or read our review of the game Monsieur Monsieur right over here: https://www.nineoverten.com/2011/11/15/pull-that-mustache-monsieur-monsieur-iphone-game-review/
Powered by

Sidelines
Previous Post Nine Over Ten 9/10's Ultimate Guide To Getting The PlayStation Vita
Next Post Spin Gem (iPhone) Game Review