App of the Week: Hooked (Android)
With hundreds of thousands of apps currently in the Android Marketplace, it can be difficult for consumers to find the games and "hidden gems" that might be of interest. To help consumers discover and play an amazing array of new games and content, Hooked Media Group today announced the launch of the "Hooked" app in the Android Marketplace.  The free app provides personalized game recommendations based on each users' game preferences and ratings.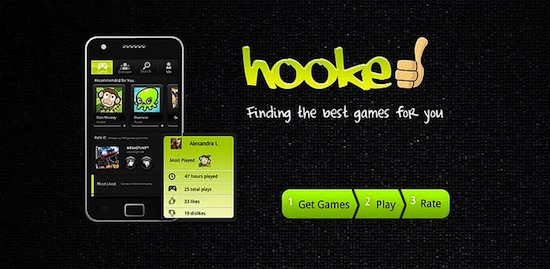 The Hooked app is a game recommendation and discovery platform that uses a proprietary algorithm to learn a users' gaming preferences, game play statistics and social mapping to provide them with personalized game recommendations and advanced search features.  The more games a user ranks, the more customized the recommendations will become, thus providing the users with introductions to games that they may have never been exposed to, including those from smaller developers whose games may have not received significant exposure.
Similar to how Netflix and Pandora provide recommendations on user feedback, the Hooked app is designed to take user feedback and make the process of discovering games easier, faster and more accurate.  Consumers can find the Hooked app in the Android Marketplace or at https://bit.ly/nrkqE0
"The Android Marketplace has a wide array of undiscovered content and we are proud to provide consumers with a free app that will introduce them to amazing games and content personalized to their interests," said Prita Uppal, CEO of Hooked Media Group.  "The more a consumer uses the Hooked app, the more relevant the recommendations will be, as the app will 'learn' their preferences to deliver them a customized list of games."
Powered by

Sidelines
Previous Post Spin Gem (iPhone) Game Review
Next Post Strawberry Shortcake Celebrates 30 Sweet Years with First-Ever Digital Comic App