Have Fun Monkeying Around in Swing Away (iPhone) Game Review
It's a Friday! So here's a pop quiz question: Name me a casual game on the iPhone that manages to look AND sound cute at the same time? Stumped? Think something like that doesn't exist? Well, check out Kasra Kyanzadeh's latest game, Swing Away. The game is a 2D platformer featuring a cute little monkey (who in turn emits really cute sounds) attempting to escape a zoo.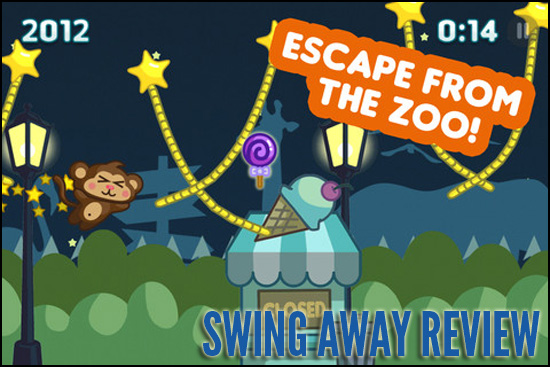 Players do so by making use of the vines swinging above the monkey's head. You'll need to grab onto one and use the momentum to fling the lil' monkey to the next vine. Repeat this and grab whatever bonuses and snacks you find along the way in order to get your score to the online leaderboards thanks to the Game Center support built into the game.
Supporting the gameplay is the implementation of one-touch controls. You'll need just one finger to play this game, so it's a pretty easy game to pick up and play. Complementing the interesting gameplay are the beautiful and colourful 2D graphics. I'm suitably impressed by the game although the level of difficulty (there's a time limit for every speed run) may put some people of.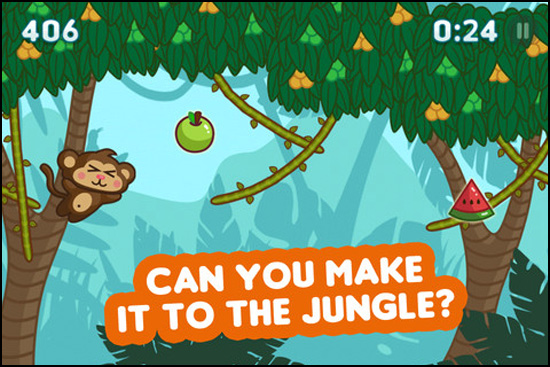 Nine Over Ten 9/10 rates Swing Away at a 4 out of 5. It's available on the iTunes App Store for just USD 0.99, check it out right over here: https://itunes.apple.com/us/app/swing-away/id480228396?mt=8.  A review code was provided to Nine Over Ten 9/10 for the purpose
Powered by

Sidelines
Previous Post Spacetime Studios Launches Industry's First Cross Platform (Mobile/PC) MMOs
Next Post This Week In Comics: Revoltech Megatron in The Transformers