Indie Game Developer Interview: Gary McKay (Cage of Monkeys)
We've got an Indie Game Developer Interview lined up this week and this time it's with Gary McKay from indie outfit Cage of Monkeys. He's one half of the team and these guys are responsible for the super fun (and highly-rated) Quadra for iOS devices (check out our review of the game here). Check out his response to our (in)famous six questions:
Nine Over Ten (9/10): Tell us more about yourselves and how you started developing mobile games…and why Cage of Monkeys?
Gary McKay – Cage of Monkeys (GM): Cage of Monkeys was formed about 6 months ago. There are two of us, Gary and Jorge (hence the two monkeys in our logo). We've been working in the game industry for over 15 years, primarily on big budget console games for large publishers. Earlier this year, we felt the timing was right to move into the mobile game market. The thought of creating fun game experiences for iOS was very appealing, and we haven't looked back since.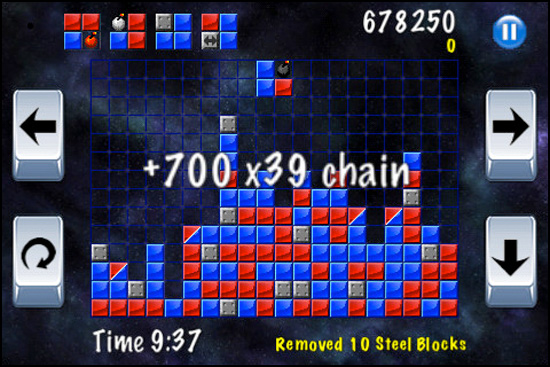 9/10: What was the idea behind Quadra?
GM: We both love action puzzle games and also enjoy games with a retro feel. So we decided to make an game that we'd enjoy playing and feel would play well on the iPhone. Quadra is an evolution of other games in the genre. We thought adding power-up game elements could really changed the way a grid based, block matching game would play. Happily, it feels and plays for the better.
9/10: How has the response been to Quadra on the iTunes App Store?
GM: Very positive, so far.  One great thing I recently experienced was when my son was out with his friends, and one of them showed off a cool new game they had downloaded. It was Quadra!  I guess that's a moment when you're really proud of the game and the hardwork that went into it.  Next up – we're planning to release an iPad specific version of the game that will include new visuals, audio and gesture based controls as a new way to play the game.
9/10: Could you share with us a little on what you'll be working on next?
GM: Once we've completed the new iPad specific version for Quadra, we'll start a prototype for our new game idea. We're shifting to another genre we like to play.  Once we have some screenshots, we'll send them your way. Stay tuned.
9/10: What are your views on iOS games piracy and how has that affected you and your fellow developers?
GM: There's no doubt piracy has an impact on our ability to be successful. So far, we haven't let it affect our decisions or the direction for the company. The iOS game community is large enough to support indie developers, despite the specter of piracy. It's a shame piracy has become so prevalent, but there are still many people willing to buy quality games, and support small developers like ourselves.
9/10:  Any words for aspiring game developers out there?
GM: It's an exciting time to be in mobile games development. The iOS market continues to grow, and is changing rapidly. Although it can be very difficulty to get noticed, if other companies' past successes have shown us anything, it's that indie game development can be a great way to follow your passion.
Powered by

Sidelines
Previous Post MinoMonsters Unleashes the Ultimate Monster "Collect and Battle" for iOS Devices
Next Post Take Your Dog Out For A Pee in New Dog Park: Top Dog (iPhone) Game