Fishhook Finnigan (iOS) Surfing Game Slated For Early 2012 Release
Check out the concept art from Fishhook Finnigan – Free Surfer, a soon-to-be-released surfing game for the iPhone & iPad. The gameplay is deceptively simple, players trace out a surfing path for titular character Fishhook by swiping their finger on the iPhone/iPad's screen before sitting back to watch Fishhook cutback, carve, float, flip and flop.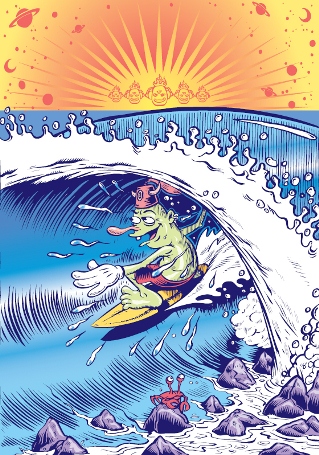 Fishhook Finnigan is the brainchild of Halo Pictures – a multi-award winning animation studio located a stone's throw from Manly Beach in Sydney, Australia. For those who are not in the know, Manly Beach is popular with both visitors and locals alike, who go there to swim or surf..among other things. So it's not hard to guess where did the inspiration came from for this game.
Stay tuned to Nine Over Ten 9/10 for coverage on Fishhook Finnigan as it will be released in the first quarter of 2012. In the mean time, here's a gameplay preview animation from Fishhook Finnigan:
Powered by

Sidelines
Previous Post Take Your Dog Out For A Pee in New Dog Park: Top Dog (iPhone) Game
Next Post Wizardry: Labyrinth of Lost Souls Now Available on European PSN!