Fruit Ninja Plushies Available Starting From Today!
What usually follows a hit game? Merchandising of course. Halfbrick, the Australian developer behind the hit mobile games Fruit Ninja and Jetpack Joyride, today announced that it has partnered with Internet-based brand merchandise company, ToyFoundry, to launch an online Fruit Ninja toy store. Fans of the hit mobile sensation can now cozy up with Fruit Ninja plushies just in time for the holiday season.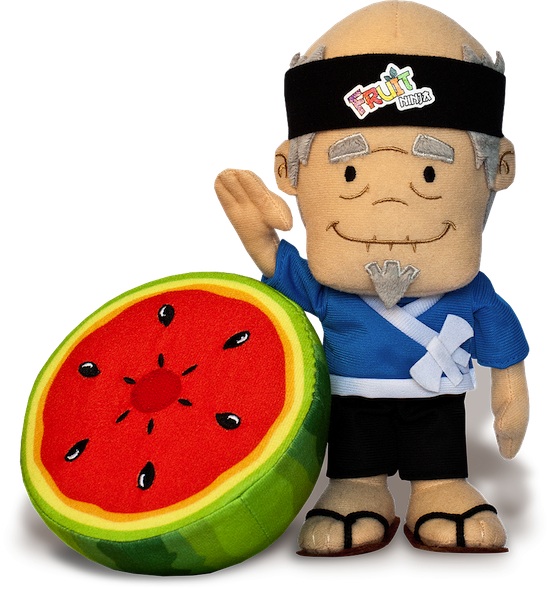 "With Fruit Ninja's universal success, this partnership just developed naturally," said Phil Larsen, chief marketing officer at Halfbrick. "Our fans are crazy about Fruit Ninja and this is a really fun and charming way to extend the brand outside of games." The Fruit Ninja online store features two soft and authentic-looking plushies, including the wise sensei ($15.99), a sliced juicy watermelon ($14.99) and a training pack ($29.99), which includes a sensei and watermelon combo.
These stuffed toys make great holiday gifts, and appeal to collectors and avid fans of the Fruit Ninja franchise. Additionally, Halfbrick plans to introduce new merchandise to the online store next year. Fruit Ninja is a highly addictive blockbuster mobile game that has players swiping their fingers across their mobile devices to slash through a cascade of fruit while avoiding game-ending bombs. Players slice and swipe their way through the various game modes – Classic, Zen and Arcade – to become the ultimate Fruit Ninja.
Halfbrick and ToyFoundry will begin shipping the toy line worldwide starting today. For more information on the Fruit Ninja online store and to buy Fruit Ninja plushies, visit: https://store.fruitninja.com/
Powered by

Sidelines
Previous Post Age of Zombies (iPhone) Gets Even More Awesome With Anniversary Edition
Next Post GAMEVIL Opens Branch Office in Tokyo – GAMEVIL JAPAN