Visually Delicious: Juice It (iPhone) Game Review
This post was brought to you by the word aesthetic, which is defined as a set of principles underlying and guiding the work of a particular artist or artistic movement. Nextwell's latest game for the iPhone, titled Juice It, has a certain kind of aesthetic that is beautiful to behold and one that is bound to make you hungry for fruit, or thirsty for fruit juice.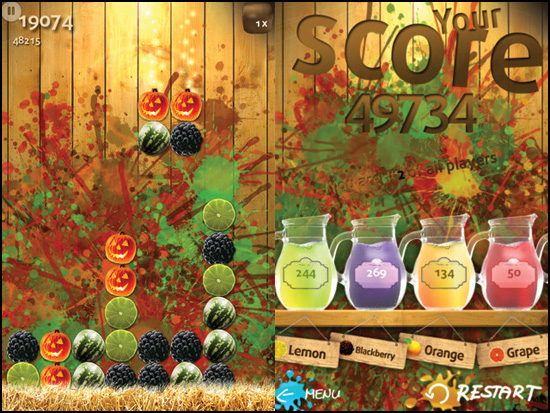 The game has you arranging falling fruit in a manner that mashes the gameplay styles between Tetris and Bejeweled. You'll need to arrange the same fruit in a horizontal row consisting of three or more in order to "juice" them. As you continue progressing, different kinds of fruit are introduced (including the Halloween-inspired Jack-O-Lantern pumpkin) as well as power-downs such as fruits encased in ice, which prevent you from rotating them when they are falling.
So how does it tie to Bejeweled? Aside from rotating the blocks of falling fruit, you can swap the positions of fruit once they are placed in rows at the bottom of the screen. This only came to me by accident in my 2nd play-through, so imagine my surprise. You'll need to get the hang of it as it's crucial for big points.
It's all in good fun as Juice It provides players with a Classic (read: endless) mode and other mini games such as the infuriating mirror mode in which your controls are crossed. Players will be looking at 5 game modes and Game Center online leaderboard support, which is becoming a necessity these days. One thing to look out for that is bound to make you thirsty is the Game Over screen, where jugs of fruit juice denote your progress!
For having a beautiful art direction and really addictive gameplay (inspired from not one, but two really addictive games), Juice It gets a 4.5 out of 5 from us at Nineoverten.com. Check out the game on the iTunes App Store where it's available for just USD 0.99: https://itunes.apple.com/ca/app/juice-it/id476306110?mt=8.
A review code was provided to Nine Over Ten 9/10 for the purpose of this review.
Powered by

Sidelines
Previous Post Resident Evil Fans Get Early Christmas Present!
Next Post Recipes Genius (iOS) Goes Free For A Limited Time Only!