Resident Evil Fans Get Early Christmas Present!
Resident Evil: Operation Raccoon City may not be released until March 2012, but that's not stopping publisher Capcom from ramping up its inventive marketing approach with Inserted Evil, an ARG conceived, designed and implemented by creative agency SJS.
The campaign, which originally began on 31st August, saw the launch of a recruitment site for the Umbrella Corporation (www.umbrellasciences.com) an omnipresent and somewhat sinister organisation within the Resident Evil franchise, which was subsequently hacked by a mysterious 'Insider' hell bent on exposing the truth behind Umbrella's involvement in bio-genetic engineering…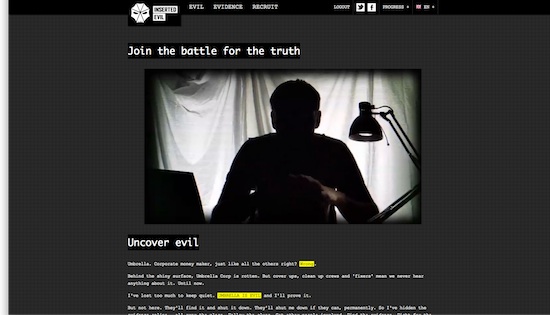 The campaign then challenged players to solve weekly clues posted on www.insertedevil.com  which, created a transmedia treasure hunt, based within social media (involving a Facebook Connect login) and taking in sites such as Google, YouTube, Soundcloud and Flickr, as well as a range of proprietary, purpose built sites, red herrings and dead ends. The treasure at the end of each trail was a combination of in-game rewards, real-world prizes and meaty game world and character background.
The next phase has just begun – and looks set to build on the enormous popularity of the first stages, which have seen 500,000 core players from over 170 countries visit the site. SJS's concept for the ARG saw the company creating video, static pages, online games, picture galleries, audio, tweets and a whole range of story and data files for the project, all of which combined to create the immersive experience that engaged with fans of both Resident Evil and ARGs.
Rachel Norman, Director at SJS London said: "We knew this was a great idea, but even we were surprised at the sheer number of fans who got involved – and to the lengths they went in order to bring down Umbrella." Ben Wyer-Roberts, the game's Strategic Marketing Manager commented: "The intention was always to inspire and excite the hardcore fans, and with the Inserted Evil campaign, SJS has helped deliver the most successful ever Resident Evil gaming community program."
Resident Evil: Operation Raccoon City will launch on PlayStation 3, Xbox 360 and PC on March 23rd 2012. The ARG continues at www.insertedevil.com.
Powered by

Sidelines
Previous Post Blacksmith Games' Appvent Calendar 2011 Is Here, Spreading The Holiday Cheer