When A Cage of Monkeys Meet Tetris: Quadra (iPhone) Game Review
At first glance, Cage of Monkeys' (next time, I want a company name as cool as that) Quadra for the iPhone may look like a Tetris rip-off, but you'll just need one play-through to realise that this game is a very different beast instead. The objective of the game is still dropping blocks on to a grid to form stacks called quadra, but the blocks only disappear when a beam passes through them.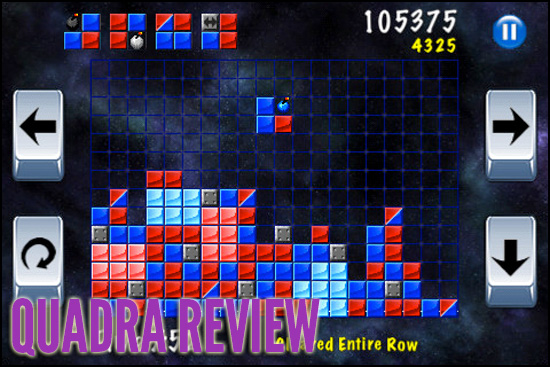 This "delayed" destruction of blocks require players to come up with another layer of tactics but the extended grid (unlike Tetris, the game is played in landscape mode), allow players more room to maneuver and place blocks. The Game Center integration makes it possible to track achievements and online leaderboards across a variety of game modes available in Quadra.
There's the 2-minute game mode for the casual player who wants something easy to pick up and play, followed by the 5-minute and unlimited modes. The game allows players to set difficultly levels as well, bringing about a total of 9 different variants of the game. The other things that caught my eye other than the gameplay would be the old-style graphics and the retro-like controls by the side of the screen. Those were super cool IMHO.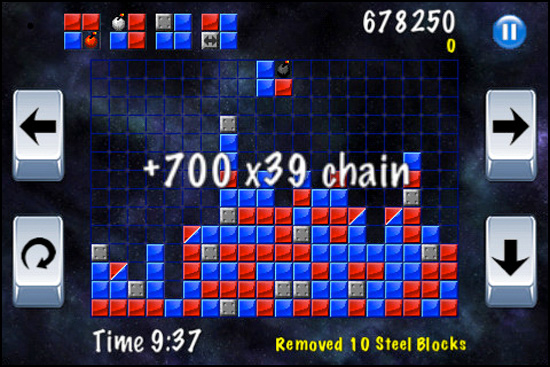 Nine Over Ten 9/10 rates Quadra at a 4.5 out of 5. If you want something similar, and yet different to that of Tetris, check out Quadra on the iTunes App Store (USD 0.99): https://itunes.apple.com/ca/app/quadra/id474244272?mt=8. A review code was provided to Nine Over Ten 9/10 for the purpose of this review.
Powered by

Sidelines
Previous Post Fruit Ninja: Puss in Boots Debuts on Android Devices
Next Post App of the Week: Ireland's Greatest One Liners (iPhone)