Fruit Ninja: Puss in Boots Debuts on Android Devices
Looks like Amazon has scored an exclusive for its fledgling Amazon Appstore with the launch of Halfbrick's biggest mobile titles of 2011, Fruit Ninja: Puss in Boots (check out our review over here), for Android devices. It will be available exclusively through Amazon and is optimized for the newly released Kindle Fire.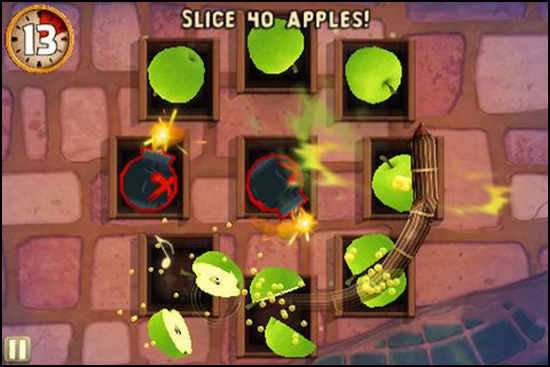 As part of its Cyber Monday promotions, Amazon will offer Fruit Ninja: Puss in Boots as the Free App of the Day. Following the promotion, Fruit Ninja: Puss in Boots will be available through Amazon Appstore for $0.99. Fruit Ninja: Puss in Boots can be downloaded here: https://itunes.apple.com/us/app/fruit-ninja-puss-in-boots/id469297662?mt=8.
Stepping into the boots of the swashbuckling feline hero, Fruit Ninja: Puss in Boots brings the trademark Spanish flair to the famed Fruit Ninja franchise, offering two exclusive modes, unlockable weapons and Spanish-themed backgrounds inspired by DreamWorks Animation's hit motion picture "Puss in Boots."
The furry fighter slices his way through Desperado Mode, which adds Magic Beans and enhanced waves and scoring, and Bandito Mode, a four-tiered challenge adventure where players must work through a number of increasingly difficult and varied puzzle-style slicing games. Fruit Ninja: Puss in Boots was a top five best-selling iOS game during its release week and received a perfect "5 out of 5" review score from renowned mobile games site Modojo.com.
Powered by

Sidelines
Previous Post Nike We Run KL 10K 2011 Race Report
Next Post When A Cage of Monkeys Meet Tetris: Quadra (iPhone) Game Review